Jason Bull has had a rough year.
He's been drinking, and overeating, not sleeping and throwing the occasional temper tantrum, and on Bull Season 2 Episode 21 someone finally called him out on it.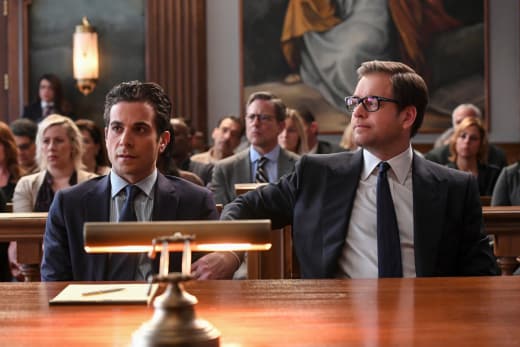 It made sense that it was Marissa. She's like a sister to Bull and siblings are usually the first to call one another on their bad behavior. 
Everyday I see you checking your watch to see if it's late enough to have your first drink, and if it's not that, it's how long until lunch? You sleep in your office. Your clothes don't fit. I think you are an amazing person, Jason, but I am tired worrying about you, pitying you. I want to admire you again.


Marissa
Of course, waking her out of a sound sleep to have her come down to bail his drunken ass out of jail for beating up a vending machine was also a factor in her finally speaking up. 
Jason and Izzy have been divorced for a number of years. Feeling melancholy over what could have been was understandable. 
That he'd get so drunk that he'd land himself in jail showed the downward spiral that Jason Bull has been on throughout Bull Season 2. 
If this intoxicated incident had been a one-time event, perhaps it could have been overlooked, but that's not the case. 
RELATED: Get CBS All Access via Amazon Channels for Hit Shows, Exclusive Originals & Live TV!
Marissa was right. Jason Bull used to be the person the entire team looked up to and admired, but now they find themselves questioning his decisions and worrying about his behavior. 
So it was easy to understand why they didn't enthusiastically jump on board defending Elliot Miles of rape, murder, and arson. 
Benny: You know, Bull, we used to be a team.
Bull: What are you talking about Benny?
Benny: It used to be that you'd ask me before you took a case. Used to be that you'd ask me before you blew through all of our jury strikes. Used to be that you cared what I thought.
Jason committed the team to a death penalty case without even consulting Benny, and Benny had every right to be furious. Not only did it show a lack of respect for his lead attorney and good friend, but it displayed a complete lack of empathy for how this case would affect his team.
Benny was correct in pointing out that they all had Elliot's life in their hands, and if they failed, they'd all have to live with his death and their failure. 
And Bull claimed to have done it because the man offered him a handkerchief and a piece of gum while they shared a holding cell. 
Those actions could mean that Elliot is a good man who is innocent, or he's a complete psychopath. 
I'm not sure what to make of Elliot. It's difficult to read a person who never speaks. 
Elliot obviously didn't have much of an emotional connection with his live-in girlfriend. She made it clear that she was only with him for the money. I'm guessing he was with her for the sex because after listening to her, I can't imagine it was for the companionship.
RELATED: CBS Sets Season Finale Dates For The Big Bang Theory, NCIS & MORE!
There were things about the trial that I questioned. 
Such as, why was the prosecution's main witness given a photo array instead of picking Elliot out of a real lineup?
And if Elliot took the subway home, wouldn't there be a video of him somewhere along the way? There are more cameras than I can count in the NYC subway system. 
Or couldn't Cable find any video of that SUV driving anywhere near the bus stop where Elliot claimed he bought it?
Then there's Elliot's story about the stolen vehicle. Who buys a car from a stranger at a bus stop for $600 cash with no paperwork involved? 
Either Elliot is seriously naive, or he's hiding something, and if he's hiding something, I worry for Bull. 
Actually, I'm a mess because I know he's innocent. I know it with every fiber of my being.

Bull
But what if Bull is wrong? 
I'm not sure which would be worse for Jason; the TAC team losing this case and Bull believing his failure let an innocent man die, or Bull realizing that a man he believed in so fiercely had been lying to him the entire time?
Jason barely made it a couple of days without a drink. When things got rough, he didn't say he wanted a drink, he said he needed one, and at that point, they hadn't lot the case, they simply hadn't won it. That's a bad sign.
I'm not sure if Jason Bull is an alcoholic or if he's just developed some very unhealthy coping measures that go along with his obvious signs of depression. 
Izzy: I don't think you're good alone, Jason. I don't.
Jason: You may be on to something there.
Which leads us to the question, why is Jason Bull alone? 
He's certainly had opportunities for relationships. He had been dating Diana Lindsay, although the last we knew that was a long distance relationship and may very well be over. 
It appeared that he and J.P. Nunnelly were headed towards a more intimate relationship towards the end of Bull Season 1. I honestly thought we'd see her again this season, but that never occurred. 
RELATED: Geneva Carr is "So Flipping Happy" About Bull Season 2!
Then there was Jason and ADA Gabrielle Ramsden, they had a nice chemistry in Bull Season 2 Episode 15, but we never saw her again. 
So Jason Bull remains alone, and Izzy is right. 
It doesn't look good on him. 
You tell me, TV Fanatics, is Elliot Miles an innocent man? Will Jason Bull hit rock bottom in next week's season finale? 
Check back in for my review of Bull Season 2 Episode 22, and until then, you can watch Bull online here at TV Fanatic.
C. Orlando is a TV Fanatic Staff Writer. Follow her on Twitter.