Jersey Shore Recap: Mike Gets Sentenced, Ronnie Gets Attacked, and so Much More!
Paul Dailly at . Updated at .
The Jersey Shore family has changed. 
On Jersey Shore: Family Vacation Season 3 Episode 1, we picked up with Mike "The Situation" Sorrentino's sentencing, and it was a difficult watch for fans of the series. 
"My heart is racing right now, but at the end of the day, I have to be prepared to hold my head high and face whatever's coming," Mike said on a somber note at the top of the season premiere. 
Thankfully, Mike's castmates were on hand when he arrived at Otisville Federal Correctional Institution in Otisville, New York to start his sentence. 
The paparazzi, his wife, and his castmates were all there for moral support. 
In a truly bizarre twist, the episode then went back in time to chronicle the events leading to that moment. 
Mike and Lauren wanted to get married quickly, so they would be able to seal their relationship before his stint in the big house kicked off. 
Their dream wedding destination was Sicily, but they knew that was just a pipe dream at this stage given Mike's looming sentence and court-mandated travel restrictions. 
Related: Floribama Shore Star Nilsa Prowant Arrested for Flashing Breasts, Kicking Out Car Window
That meant Jersey was the best location for them to get married, and I'm sure fans wouldn't have it any other way. 
Also, the wedding was on Jerzday!
Despite uncertainty about the future surrounding them, the soon-to-be husband and wife managed to remain lighthearted.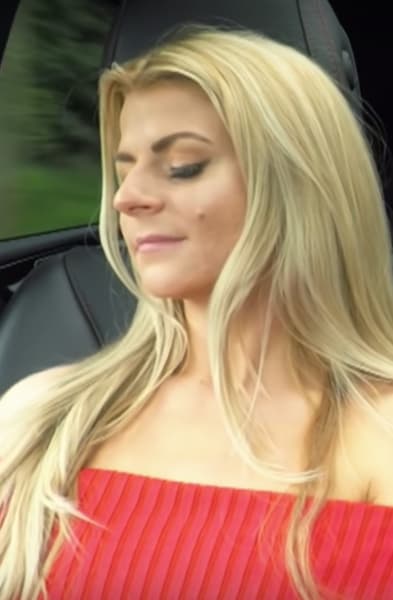 Lauren realized that Mike would need help with his RSVPs, paving the way for a genuinely hilarious moment. 
"What does reconcile mean?" Mike asked.
"Like how you reconcile a bank statement?" Lauren replied.
Mike replied, "I don't even know what that means either, and that's partly why I'm in this mess today."
While that drama was playing out, Deena attended an ultrasound and Snooki, JWoww, and Angelina accompanied her. 
The most bizarre thing about this show is how Angelina is part of things now. How long will she last?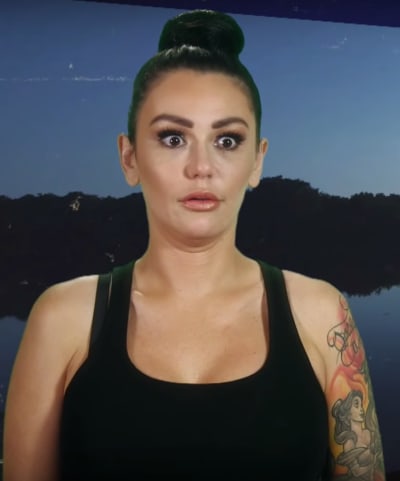 It's unclear. 
But Jenni took center stage during that scene because of her marital woes. Nicole wanted to know how her BFF was holding up. 
"I don't know. I can't figure out how to express it, so I just shut it out and move on," Jenni responded, before saying that she's been "living the dream" since she was last on the show. 
"Um, how's Roger?" a producer wondered. 
"Pffft," she said. "So, moving on."
Okay then.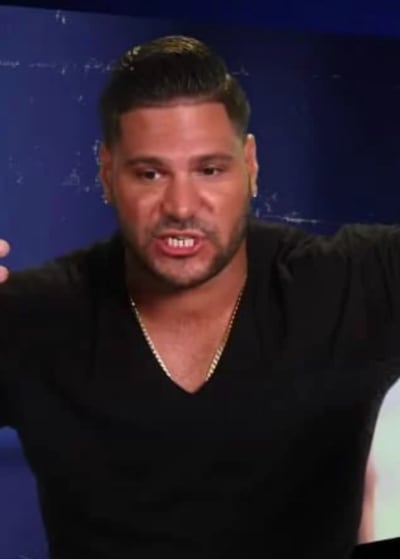 As for Ronnie and Jen, it seemed like they were actually in a good place. That's odd considering the amount of $hit they've pulled with each other. 
If they can make it work, anybody can. 
"Are you happy with the way we've been lately?" Jen asked Ronnie as though it was a line fed to her from a producer. 
"Yeah, I'm really happy with the way we've been lately. It's amazing. We haven't been fighting, we've been getting along," Ronnie replied with a smile. 
"The storm has calmed, and there's a little bit of sunshine," he later told the camera. 
"I've made the decision to slow down and try to get things right at home between me and Jen and the baby," he continued.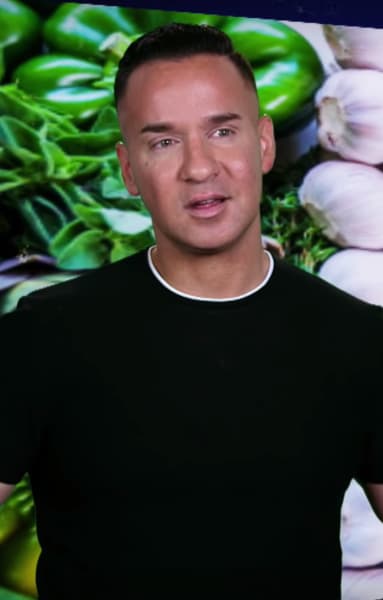 Despite Ronnie saying he was attending Mike's sentencing, Mike later revealed that Ronnie ditched his wedding shower. 
It looks like we're in for some vintage Ronnie-Mike drama, you guys!
Mike told Jenni and Vinny all about it. 
Related: Floribama Shore Renewed for Season 3
"This guy's facing court, and his biggest issue right now is Ronnie didn't send him a gift," said a stunned Vinny. "I love Mike's reasoning."
Even though he was pressing on with wedding planning, Vinny wondered how his pal was really feeling. 
Mike said he was "ready for anything, from probation to maybe even a year in jail."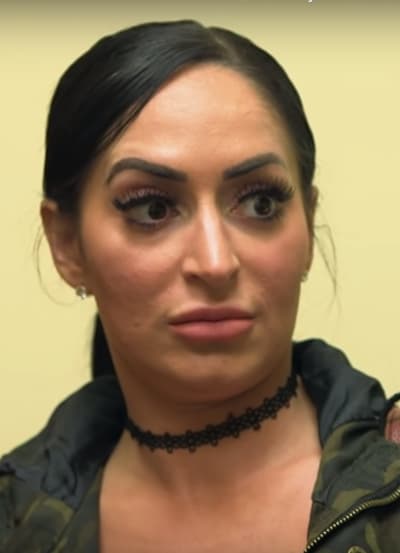 In another part of town, Angelina continued to push Jenni's buttons. They met Lauren in wedding gown store, and it was the same one Jenni used. 
"What the? It's probably, like, weird being here," Angelina said to Jenni, who shot back, "No. Do you have a mute button?"
Things took a turn when the ladies started whispering about what they were wearing to court, all thanks to Jenni, who started the conversation. 
"This is what we're talking about?!" Deena yelled. "Oh, my God. He might go to jail, she's trying on dresses, and she's ordering a court outfit."
Lauren emerged with a beautiful dress, but Angelina continued to run her mouth after Lauren admitted to spending three weeks planning the wedding.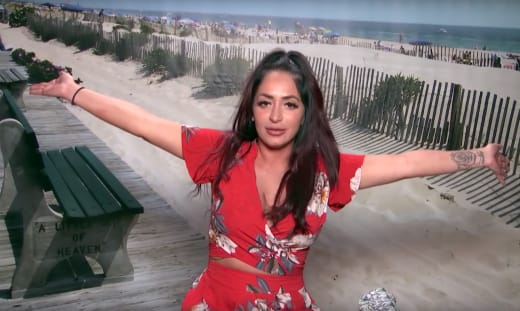 "And it's probably so crazy, like, you planning a wedding around the whole Mike thing, too, right?" Angelina said without stopping for a breath. 
The others were not amused. 
"This is sad to make her talk about in her wedding dress," Deena said.
Related: The Hills Recap: What Really Happened Between Spencer and Brody?
"In her wedding dress, dude?" said a stunned Jenni, while Nicole simply said, "seriously?"
"How do you feel, like, all in all, going into this now?" Angelina asked Lauren. 
"It's not a thought in my brain," Lauren shot back. 
But things got even wilder when Lauren showed them the dress. 
"He's gonna cum in his pants when he sees you like this," Angelina said while grinning. 
"This bitch is so Staten Island, I can't!" Nicole laughed. "The worst!"
Many viewers have wondered why Lauren and Mike were rushing the wedding, and Lauren wanted to set the record straight. 
"People may think it's weird that Mike and I are married now, but bullshit in life is gonna come and go," she explained.
"And like, when this leaves, there'll be other little shit that isn't ideal to deal with, either. You know what I mean? It's not ever gonna be perfect. It's like, he's healthy, he's sober, we're getting married. Nothing can take away that happiness."
Lauren was shocked by the amount of support from the ladies. 
"I appreciate all of that and each of you, and I know how important you are to Mike," she continued.
"It's really special that he had mended those fences with you guys and got those strong relationships back so that he could go through something like this and have the positive outlook to know he has so much love around him."
"I appreciate you guys so much for being those people for him and for me in the future."
Later, the petty side of Mike returned when he thanked Pauly and Vinny for their wedding gifts. 
It was water off a duck's back for Ronnie, but Mike surprised all three men by asking him to be his best men. 
Things took a turn later when everyone got ready for the courthouse for Mike's sentencing, and it emerged that Ronnie had been jumped.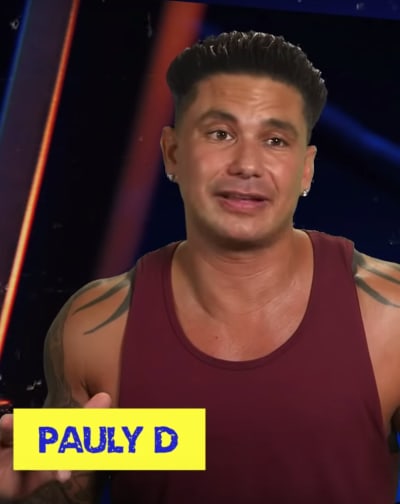 He was battered and bruised, and down some of his jewelry, but he was all good. 
Mike and Lauren hugged the cast mates as they arrived at the courthouse. It was a sad moment, for sure. 
In the end, Mike was sentenced to 24 months on the inside, and everyone was a mess. 
"Wait, they sentenced him to 24 months?!" he shouted. "Are you f--king kidding me?!"
As we said, it was a wild premiere. 
What did YOU think of it?
Hit the comments below. 
Remember you can watch Jersey Shore: Family Vacation online right here via TV Fanatic. 
Jersey Shore: Family Vacation continues Thursdays on MTV. 
Paul Dailly is the Associate Editor for TV Fanatic. Follow him on Twitter.