Fresh Off the Boat Season 6 Episode 1: Help Unwanted

Inga Parkel at . Updated at .
We're back with a fresh new single of Fresh Off the Boat Season 6 Episode 1.
Oh, how I've missed my dose of the late 90s and mixetape "yeeeahs."
The Huang family has just finished summer and it's time for the kids to go back to school.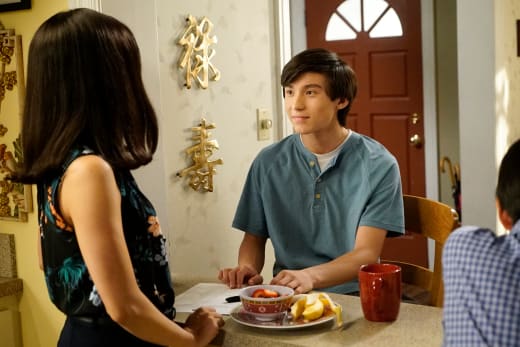 Emery is struggling with his choice of electives between drama, welding, and languages, and Jessica can't help but keep to her "tiger mom" standards. 
Are you starting high school or prison?

Jessica
What kind of prison system does Jessica think our country runs if she thinks confuses a list of classes like that with prison?
The way she runs her household is a bit more comparable to the prison system. 
With Emery just starting high school, Evan's finally hit with his first bout of, what Eddie refers to as, "the tingles." Honestly, where has the time gone?
Baby Evan's voice isn't so young anymore either.
And now is the time I begin to put my desires of a future baby girl out in the universe. 
Have fun. Everything waist-down is your territory. I made that very clear in our vows.

Jessica
Eddie and Louis argue about who gets to have "the talk" with Evan as Eddie tries to impose that he is the father figure.
Louis doesn't enjoy that very much and decides to march into Evan's room without a prepared speech. 
Related: Fresh Off the Boat: ABC Boss Reacts to Constance Wu's Controversial Tweets
How can a few sound and visual effects make Evan so cute?
Also, I'm no expert when it comes to ages, but Ian Chen's baby face is really throwing me off with Evan's proposed age on the show. 
Upon Louis' failed speech, Eddie attempts the same but gets distracted by Evan's adorable face.
Since when did Eddie grow up enough to find his little brother cute rather than annoying?
Friendships are hard, especially for a control freak like Jessica, so when Honey tries to offer help to Emery, Jessica doesn't take it lightly.
Sometimes I wonder how Honey can stay friends with Jessica.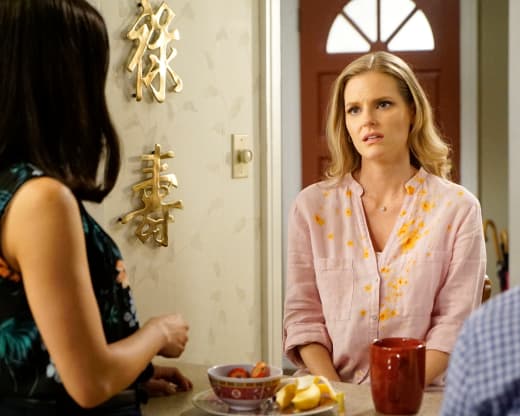 Emery chooses to take drama with the help of Honey, and that takes a while for Jessica to warm up to the idea.
And it's not until Honey drops some knowledge and mentions that "Tricky Dick," aka Nixon, also took drama. 
Jessica's domineering and controlling ways make sense, especially being a first-generation immigrant, all she wants is her children to be successful.
But sheesh, sometimes the writers take her personality a bit too far.
Understandably, it is a sitcom though so personalities need to be enhanced. If they weren't, the writers would be hard-pressed on humor without Jessica's snarky remarks.
Arguably, her one-liners make up the bulk of the show's humor. 
Related: Constance Wu Admits Her Fresh Off the Boat Renewal Comments Were 'Dramatic'
As Jessica and Honey enter a verbal war about how their friendship is overstepping bounds, they slowly begin to crumble.
But what good friendship doesn't have a moment of turbulence. The turbulence is what leads to resolution and understanding.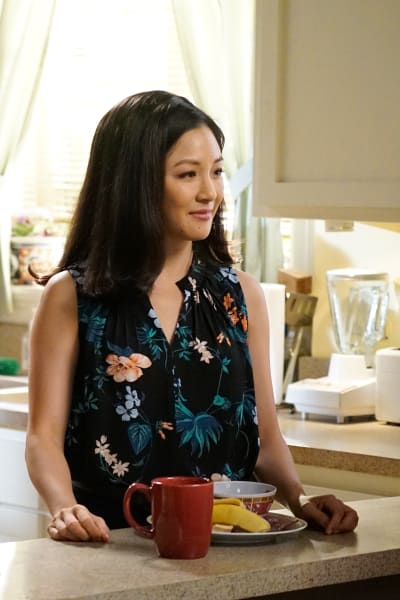 Perhaps a bit begrudgingly, Jessica learns that she needs help at least two percent of the time.
Even admitting two percent is a huge step for Jessica, ok.
Jessica learns that she can't do everything alone and friends are there to help pick up the dangling pieces.
While Honey is finally growing up and learning life as a new mom requires a tougher backbone like Jessica's. 
You know I always figure that being his father automatically made me the teacher. But, I'm realizing that he'll teach me things too because he's going through big life changes. And so is Honey, it only makes sense that your relationship would evolve.

Louis
Even in sitcoms, we learn life lessons along with the characters.
That's what makes them funny, yet heartwarming.  Louis is arguably the wisest personality of them all.
The episode was certainly not lacking in its usual humor and Jessica's sassiness, but I still wish there had been more.
Thirty minutes is too short for the Huang family, especially when Jessica's personality is as big as it is.
It'll be interesting to see how Evan matures over the course of the season.
Related: Enjoy UNLIMITED access to thousands of Movies and TV shows with Amazon Prime Video.
Sweet baby Evan, who would've thought he would finally grow out of his bowl cut and baby voice?
Oh no, there's a hole in the foot of my jammies! Hello, Ernie the toe.

Evan
Let's hope we have a future Emery musical or play in our future.
He's just too wholesome, and now that Jessica is finally coming around, we deserve it. 
Additional Sidenotes:
The flashback to baby Eddie was such a time travel. If you want to feel old look at how only a few years ages a child. 
Poor Marvin, looking like an old man at the age of 25? Questionably, a play on "Asians never raisin?"
I know as much about sports as Jessica, and I find them about as enjoyable as snoozing Marvin.
Are oversized clavicles even a thing? If so, sign me up! 
Mervin and Candy! Is that the first time we've heard of them? I'm crying. Similar vibes of Modern Family's Gloria and Jay.
I'm really enjoying Honey's new "motherhood" look.
Sometimes I forget the show is set in the late '90s until things like The Sixth Sense are mentioned.
What did you think about the episode?
Leave your thoughts and ratings in the comments below. 
And as always, if you missed watching it live, you can always watch Fresh Off the Boat online here via TV Fanatic! 
Inga Parkel was a staff writer for TV Fanatic. She left the organization in June 2020.