When Being Mary Jane returns on Tuesday, January 10, the show on a show will be a lot different.
That's right, MJ and Kara are on the move!
There are more than a few surprises for Being Mary Jane Season 4, beginning with a move to the Big Apple!
Kara helps MJ land a gig as correspondent on "Great Day USA," a national morning news show in New York City.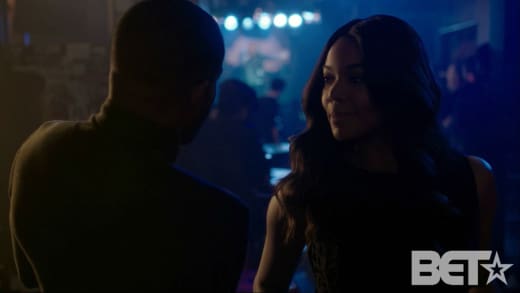 There, Mary Jane Paul to achieve her lifetime career goal of becoming a national lead anchor.
She meets her idol, veteran lead anchor Ronda Sales, and realizes that working closely with your heroes isn't all it's cracked up to be.
Let's be honest, if one of us looked over our shoulders and saw someone with the looks, charisma, talent and intelligence of Mary Jane Paul gunning for your desk, it might be hard to welcome her with open arms, as much as you might want to.
And oh, Mary Jane has plans for her big life change in New York.
On Being Mary Jane Season 4 Episode 1, appropriately titled "Getting Nekkid," she quite literally wants to change every aspect of her life.
But how often does that work?
Then again, when you slow down and look around, sometimes the very thing you were hoping to find comes looking for you anyway.
Along with the new job and city, Mary Jane resolves to start fresh in every way possible, including her love life.
Nothing goes according to her master plan, however, and she quickly falls for Lee Truitt, a successful standup comedian from the UK who tests MJ's preconceived notions about what (or who) she needs in her life.
From what I've seen so far, I've decided laughter has been missing from Mary Jane's life all along.
You will not want to miss his introduction or perseverance.
Back in Atlanta, the Pattersons deal with the fallout from Niecy's run in with the police.
With Mary Jane in New York, they grow closer as they realize their new roles within the family and do what they can to step up to the plate for one another.
It's going to be a completely new dynamic for them, and one I look forward to watching unfold.
They've watched and learned over the years from MJ; now it's time to see if they can handle the pressures of their lives on their own without their safety net.
Be sure to tune into the premiere on BET Tuesday, January 10 at 9 (and again at 10 if you miss it or want to watch it twice!) to find out exactly what's going on in Mary Jane's mind this season.
And if you missed any of the excitement so far, you can watch Being Mary Jane online right here via TV Fanatic.