Fear The Walking Dead Trailer: Fear Creates Fury
Paul Dailly at .
Let's get one thing out of the way: Fear The Walking Dead has mostly struggled to step out of The Walking Dead's Shadow, but Season 3 has proven the show has some interesting stories to tell. 
The trailer for the second half of Season 3 debuted today at Comic-Con, and it seems like the show is going to continue to go from strength to strength.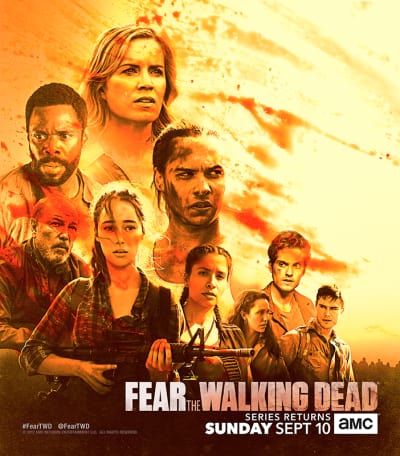 Thanks to the Black Hat Reservation and everyone at Broke Jaw Ranch trying to co-exist together, it looks like things are going to go from bad to worse. 
With tensions at an all-time high, Madison warns her children to be prepared for things to go south, and as she expected, things get a little crazy. 
So, crazy that an all-out war breaks out and it does not look good for Nick. Before Season 3, I would have said the show would not be able to survive without the character, but considering the raft of new additions that have made the show a must-see TV show, it would not be much of a loss. 
Madison is finally coming into her own as a leader, and that's what's so great about it. She's learned from the mistakes she made in previous seasons and is now ready to lead select individuals on the right path. 
The best moment of the trailer finds Madison meeting up with Salazar for the first time in a long time. 
Yes, things are getting crazy. 
Remember you can watch Fear The Walking Dead online to get up to speed with all of the drama you've missed. 
Have a look at the full trailer below and join us in the comments with your thoughts on it.