Gotham: Chris Chalk on "Famly" Atmosphere and "Intrigue"

Lisa Babick at .
We could have sat all day chatting with the Chris Chalk.
He's charming and funny and seems like an all-around nice guy!
No wonder he's the perfect person to be playing Lucius Fox!
At the New York Comic Con this past Fall, Chalk talked about the "family" atmosphere on the Gotham set and gives some insight about what it's like to work with Ben McKenzie and Cory Michael Smith.
He said that Gotham's final season is full of "intrigue" even offering up an intriguing tease about Lucius Fox himself!
Chalk said that we won't be seeing Lucius cutting loose, but he "does meet the love of his life."
17 Times Barbara Kean Knocked Us Out with Her Style
Who could that be? 
Is it a new character or someone we've already met?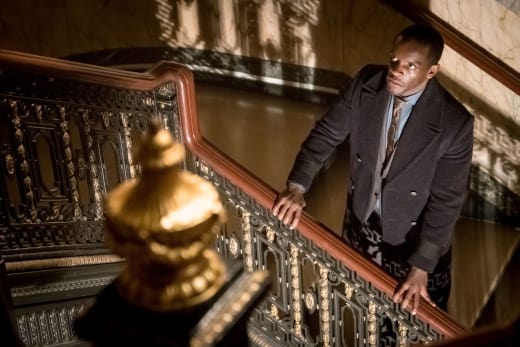 Chalk doesn't say, but we're pretty excited that there will be at least one happy ending!
Gotham Season 4 Episode 9 Review: Let Them Eat Pie!
Check out the interview below to see what else Chalk has to say about his experiences on Gotham and what to expect on the show's final season!
Gotham Season 5 Episode 1 airs on Thursday, January 3 at 8/7c on FOX!
Be sure to check back with TV Fanatic for all our thoughts on the final season of Gotham!
If you need to catch up, you can always watch Gotham online right here via TV Fanatic!