PLL: The Perfectionists Sneak Peek: Alison Slaps Mona!
Paul Dailly at .
Alison was put through the wringer on Pretty Little Liars, and it looks like her ordeal is going to continue on PLL: The Perfectionists. 
On PLL: The Perfectionists Season 1 Episode 2, she finds herself between a rock and a hard place. 
Someone is trying to place her at the scene of Nolan's murder around the time he died, and the new resident of Beacon Heights is ready to fight back. 
Her first order of business is to turn to her frenemy, Mona Vanderwall, who brought her to the new city in the first place. 
Related: PLL: The Perfectionists Premieres 75% Below Pretty Little Liars Finale
Alison vents to Mona that she feels like everything is happening again, and that it's like she never left Rosewood at all. 
But Mona is too busy trying too busy to take notice of the fact that Alison is hurting and that she brought pie.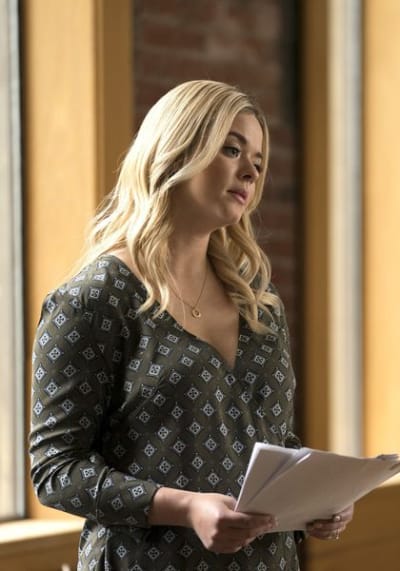 In a desperate attempt to get through to Mona, Alison slaps Mona and mutters the following:
"This is for your mom, bish."
I'm totally kidding about what Alison said. The newly reformed liar said the following:
"I'm sorry I did that, but..." 
Mona immediately changes the subject because there's pie. 
You really need to witness how awesome this scene is, PLL: The Perfectionists Fanatics!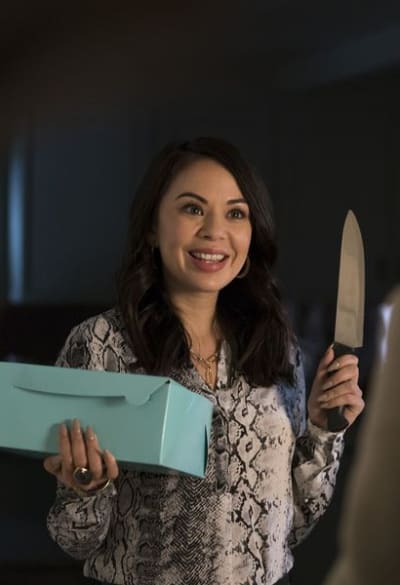 As for what else is going on during "Sex, Lies and Alibis," here's the official logline:
"In the wake of Nolan's murder, Ava, Caitlin and Dylan join forces to give themselves a credible alibi on the night in question.
"Alison goes toe to toe with Dana Booker, BHU's new head of security, who is suspicious of Nolan's "perfect" posse."
Related: The Perfectionists Season 1 Episode 1 Review: Pilot
"And Mona starts slipping into old habits while wrestling with a guilty conscience."
Also, you should totally tune into this episode live because there are some big bombs dropped about the OG liars.