Pretty Little Liars Promo: Aria Meets Uber A
Paul Dailly at . Updated at .
Who killed Jessica DiLaurentis?
That question will finally be revealed on Pretty Little Liars Season 7 Episode 14 when Uber A steps up his/her reign of terror on the liars. 
We should probably take note that Mr. Hastings returns during this episode, so he could be the one to shed light on who took Alison's mother out of the equation.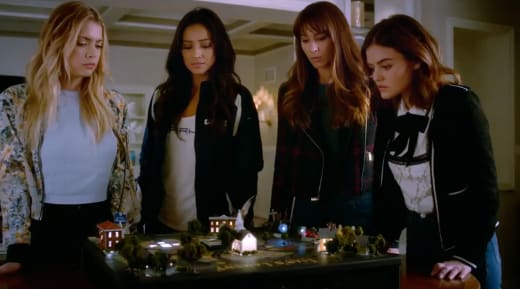 Now, it would not surprise us if he was the one to do the deed. Maybe Jessica had some more revelations to reveal about the man. 
Meanwhile, the liars will continue on their quest to unmask their tormentor and end the sick game once and for all. 
The teaser even shows Aria coming face-to-face with the masked tormentor, but something tells us this will either be a dream sequence or another red herring. 
Yes, you would think the red herrings would be over with, but they are still being sent to us like they're going out of fashion. 
We never got to see anything from Toby who just lost his wife, Yvonne. This development will likely bring Spencer's relationship with Marco to a close. 
Marco and Yvonne have been mere placeholders for the original couples since the show flashed forward. 
Marlene King has pretty much confirmed that all of the original couples will find their way back to one another by the end of the series. 
Maybe that's a promise she will actually keep to fans of the series. 
Remember you can watch Pretty Little Liars online now via TV Fanatic to get up to speed with the latest drama. 
Over to you, Pretty Little Liars Fanatics! What do you think of this teaser? Who Killed Jessica?
Note: Pretty Little Liars Season 7 Episode 14 airs May 9 on Freeform.