The Resident Sneak Peek: Devon is Determined to Find Julian!

Jasmine Blu at .
Devon is determined to get to the bottom of Julian's disappearance. 
On The Resident Season 2 Episode 14, Devon confides in Conrad what he's learned from his latest investigation into Julian's disappearance. 
Initially, he found out that the last calls that she made were to the FDA, and he wanted to figure out why that was and if it had anything to do with QuoVadis. 
Devon tells Conrad that the calls were related to a job opportunity for Julian. 
Related: The Walking Dead Shocker: Danai Gurira Quits!
According to the shady Trescott, Julian wanted to switch to a new job, and she was supposed to meet him for an interview but never showed. 
We know that Trescott is lying and that he's in Gordon's pocket. 
Will Devon be able to figure it out though? 
Related: Animal Kingdom: Emily Deschanel Joins Cast!
Devon already knows that Julian expressed displeasure over her job, so it's within reason for her to be looking for a new one. 
Overall, Devon is frustrated because he feels like he's the only who cares about Julian being gone.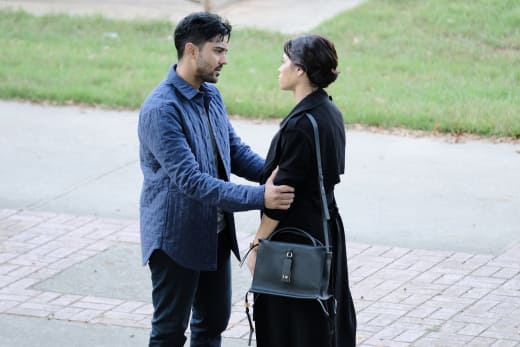 He doesn't think the cops are looking for her anymore, and he tells Conrad as much. 
Will they be able to connect the dots? 
Related: Pretty Little Liars Spinoff: Who's Who?
Check out the sneak peek!
The Resident airs Mondays on FOX. 
You can watch The Resident online here via TV Fanatic!