The Bachelorette Review: Let's Be Frank
Steve Marsi at .
The Bachelorette was mostly filler last night, but the main event was almost worth sitting through two hours. The star of the show herself getting dumped? That's a new one!
As our comprehensive The Bachelorette recap (follow the link for a fun rundown of everything that played out last night) notes, it's unclear what was staged and what wasn't.
Did Frank really go months without speaking to Nicole? Can he be any more annoying in saying her name over and over again? Was his surprise reunion with her all reenacted?
Why did he go to Tahiti to tell Ali about this in person? Why was he sunburned as hell when he got there? It makes little to no sense, and the star was understandably shattered.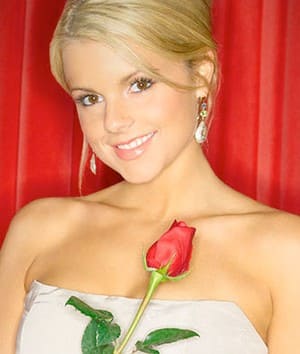 Ali Fedotowsky had the tables turned on her last night.
It was hard to see this one coming. After all, unlike the wrestler Rated R, whose ulterior motives were obvious, Frank had been among Ali's most enthusiastic suitors all season.
He was secretly pining for his ex-girlfriend the whole time? He would really choose her over Ali having made it this far and standing a serious chance of winning? Doesn't add up.
In any case, he's gone now, after many heart-to-hearts with girlfriends past and present, and with host Chris Harrison, who was given more screen time than usual this episode.
A pimp's host's gotta do what a host's gotta do.
Ultimately, Ali is left with two incredible guys, both of whom improved their already stellar reputations with their performances last night. The romantic setting of Tahiti helped.
You have to wonder if Frank spurning her in this fashion will have lasting effects on Ali's psyche, however. This is twice now, and not the easiest thing to just bounce back from.
Can she trust Chris or Roberto? Which of the two should she pick?
Steve Marsi is the Managing Editor of TV Fanatic. Follow him on Google+ or email him here.