We already know that the Big Love series finale will pit Bill against Alby.
But what better way to get the full scoop on the episode - which will be titled "When Men and Mountains Meet" - than to read the official HBO description of it? The network has released this synopsis, and we've posted it below.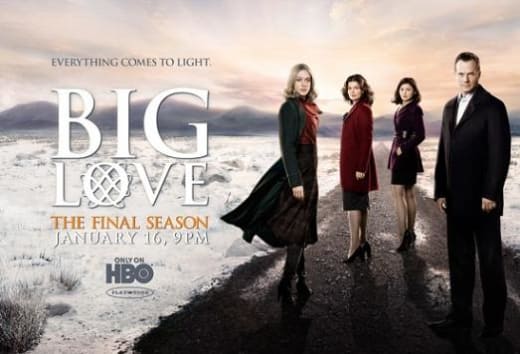 With the specter of jail time looming, Bill charts out contingency plans for the family, while orchestrating a last-minute preemptive referendum on the senate floor. Meanwhile, Barb goes forward with her plan to join a reform-minded church; Margene contemplates taking a hiatus to serve as a volunteer abroad; and Nicki despairs being left alone as her family splinters.
Cara Lynn considers a return to her roots; Ben enlists Rhonda to help him win over Heather; Don shares some bad news with Bill about Home Plus. As Easter arrives, the Henricksons receive heartening support from their polygamist constituents, briefly lifting the dark cloud that's been hovering over the family since Bill's election. Finally, an unexpected vision leads Bill to a final confrontation with his most deeply-held beliefs.