United States of Tara Review: "Dr. Hatteras' Miracle Elixir"
Matt Richenthal at .
Following an episode in which all characters made significant decisions, "Dr. Hatteras' Miracle Elixir" saw our favorite dysfunctional family settle in to their new lots in life.
Marshall officially broke things off with Lionel, and is now involved in what appears to be a more normal relationship, one in which I can't imagine the word "boyfriend" is off limits.
Kate is a shining star at flight attendant school, Max is irritated by his gig as just a regular employee (who helps kill the environment) and Tara? She has struck a deal with someone she previously believed to be the devil.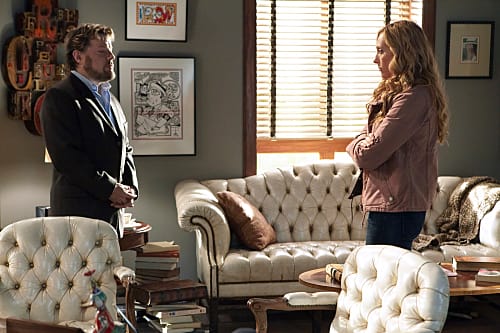 It took Eddie Izzard a couple episodes to really be featured this season, but I'm now officially fascinated by his role as a professor who both doesn't believe in D.I.D. and also wants to study someone who claims to have it.
As Hatteras put it so well, might a doctor with such a perspective actually be the ideal person to assist Tara and her family?
What makes this storyline so interesting is that I legitimately don't know where it will go. Will Tara prove Hatteras wrong and be diagnosed with the dissociative disorder? Will he somehow disprove the last decade of her life and put Tara on a new path? How will step-brother Bryce some back in to play?
Kudos to the series for tackling Tara's issues straight-on. It could have been easy to just sit back, let an alter come out here and there, rely on the comedic elements that come along with such an abnormal family and not try to progress toward anything more significant. But the humor appears to be leaving with each episode, doesn't it?
I don't see anything funny in Max's frustrations, or in Tara's admission that she really may be crazy and really does need help. But I'm fine with that. The acting is so sharp and the characters so well-defined on United States of Tara that I'm thrilled to go in whatever dramatic direction the show wants to take me.
I also liked the reconciliation scene between Charmaine and Tara. No apologies on either end, nothing especially major to bring about the resolution to their fight. It was understandable why Charmaine was so upset and now it's understandable why she'd want her sister back in her life. Simple, sweet, touching. Good, realistic stuff all around and a nice, basic way to conclude a solid episode.
Matt Richenthal is the Editor in Chief of TV Fanatic. Follow him on Twitter and on Google+.