The first thing I noticed about The Nine Lives of Chloe King is its similarity to the recent movie I Am Number Four.
That could very well be a bad thing, but Skyler Samuels' Chloe was much more interesting than the lead of the aforementioned movie.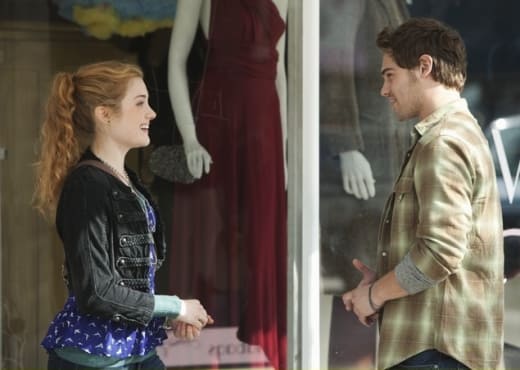 On the eve of her 16th birthday, she experiences subtle changes that don't go unnoticed by her best friends. However, she merely attributes them to her desire to live a life she has never experienced.
She can stand, without thinking, on the edge of park bench. The guys around her find her suddenly irresistible, her hearing has become well-honed and she can throw a basketball down the length of her high school hallway.
To listen to her chats with her friends, you'd think Chloe was the biggest dork in high school. But, when we meet her, she is so alluring it's impossible to understand why she had never been kissed.
Chloe is cute, interesting and funny. I can only imagine her genetic code was keeping her under the radar until this special day.
When she scratches a would-be attacker with nails that shoot in and out like a feline, you get the feeling there is a lot more to her story than a few new subtle superpowers.
Frankly, the whole premise is like every girl's dream come true. Minus the dying thing, of course. We all grow up with the magical 16th birthday looming as a gift from heaven, and yet it rarely makes any impact on life at all. Here, though, Chlole's entire world changes.
She has always known she was adopted, but having a great mother didn't lead Chloe to question her past. She was satisfied. But when a scary, scarred man is chasing you at every corner and... well, kills you, you start to question your past.
Born in the Ukraine, she is one of an ancient race called the Mai, who at one time were revered, advising pharaohs. Think of all the Egyptian paintings of big cats, wearing jeweled necklaces and crowns. Apparently, they were Mai.
Then, for the bad news: A group called "The Order" is after her, intimacy with humans is fatal for the latter (if only she hadn't had that kiss at 15) and she has eight more chances to die as she plays out her role as the very enigmatic "Uniter" of her people.
Chloe was born as the savior of her race. She had very little information from her mom, but now that she's 16, her dad sends an email to let her know to trust no one. That's a mighty big request with all the changes going on around her.
Overall, the pilot episode was not the best I've ever seen, but the story is a lot more engaging than I expected. Samuels makes for a very interesting lead, and I really care about what happens to her, as well as her two best friends, Amy and Paul; and her new friends, the Mai cousins Alek and Jasmine.
Something tells my all of those agreeable characters won't be such for long. How can a girl who will literally live eight more lives have four close friends? At least one of them will have to turn against her, or her ride will be too easy.
Other thoughts:
I loved when she flashed her nails at Amy and Amy screamed. At least it was a realistic reaction.
For being a seemingly dorky gal all her life, she took really well to her three-day old powers by the end of the first episode.
An ancient race struggling to survive and unknown to the world - and there are three at her high school? Kismet!
Since Chloe is already down to eight lives, was The Nine Lives of Chloe King really an appropriate title?
I did NOT see kitty hat guy being the son of the Big Bad coming. Very nice twist.
Carissa Pavlica is the managing editor and a staff writer and critic for TV Fanatic. She's a member of the Critic's Choice Association, enjoys mentoring writers, cats, and passionately discussing the nuances of television and film. Follow her on Twitter and email her here at TV Fanatic.