We're back for Part II of our fashion recap of this week's Gossip Girl episode! We hope you liked yesterday's roundup (see Part I), though how can you not, in comparison to Rufus' hideous Saturday Night Fever homage suit?
In the second half of "Rhodes to Perdition," our favorite dysfunctional family was celebrating their conniving, gin-loving matriarch. Thankfully, the Rhodes ladies stayed inside for their Studio 54 bash because all those sequins and lamé were blinding - CeCe even fainted because it was too much!
Lily absolutely rocked that one shoulder sequined stunner, Charlie let loose in her Boyod dress, while Serena tried on curls (success?) for the night and showed some boob yet again ... shocker!
Also, a feather-haired CeCe wore a jumpsuit that semi-resembled a mechanic's. That was definitely the throwback worthy outfit of them all, not to mention her 'do and her request for some of the white powder. She really wanted to revisit 1974 for the night. Oh yeah, Carol was there too, but Chivy is more family than she is at this point.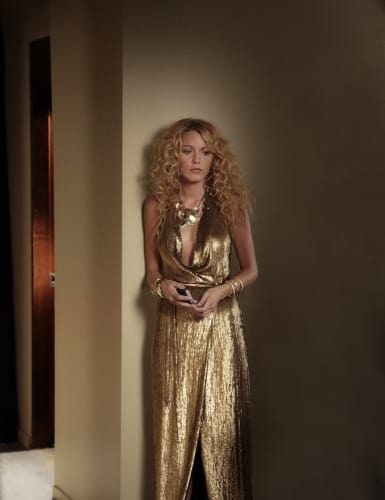 With the deep, deep V and the va-va-voom curls, you can't keep Serena inside ... she needs to get her dance on!
Actual Dress: Diane Von Furstenberg "Clarice" Dress
Steal Dress: Dian Von Furstenberg "Chastity" Dress
Actual Bracelet: Belle Noel rams horn bracelet
Steal Bracelet: CC SKYE Feather Bangle
Actual Cuff: Nicole Richie's House of Harlow 1960
Steal Cuff: Low Luv x Erin Wasson Double Crescent Moon Cuff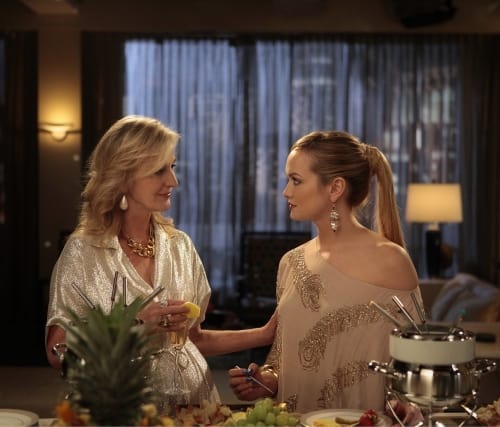 Laying low on the glitter, but kicking it in high gear with that fake ponytail, Chivy continues to be a wanna-be S, while CeCe is on a mission to get as close to Studio 54 as possible with that Farah Fawcett hair.
Chivy Actual Dress: Boyod feather-accented dress
Chivy Steal Dress: Parker Vintage Beaded Batwing Tunic
Cece Actual Jumpsuit: Carine Gilson Silk-lamé jumpsuit
Cece Steal Jumpsuit: Fteh calm leather detail jumpsuit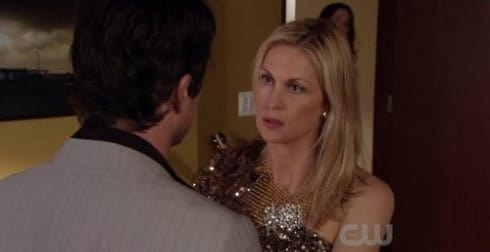 That fabulous dress remains a mystery, though Lily's necklace was sophisticated yet super fun.
Actual Necklace: Lulu Frost Modern Vintage Mesh Bib
Steal Necklace: Belle Noel Glam Rock Webbed Necklace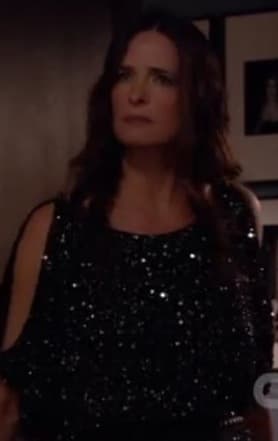 Carol still remains the black sheep by not joining in with the glitterati that was the Van der Woodsen blondes.
Actual Dress: Aidan Mattox Sequined Cold-Shoulder Dress
Steal Dress: Dolan Drop Waist Dress
We'll be back next week with another Gossip Girl fashion breakdown!