"Diplomatic Relations" documented the first commercial flight to the Soviet Union. Nothing at all was as it seemed. Kate's decision to remain an agent was the only thing that got the entire crew out of the communist nation.
The soap opera aspects of Pan Am were on high alert here, as we dealt with stewardesses arrested as spies, marriage proposals and couples fighting. If it wasn't a soap, I would have actually been concerned about Kate because she took so many risks under the very focused eyes of the Soviets. Knowing that none of them are going to be shot dead in the middle of Red Square is part of the fun of Pan Am. It's nice to be able to let our characters take daring chances knowing they will be alive to talk about them later.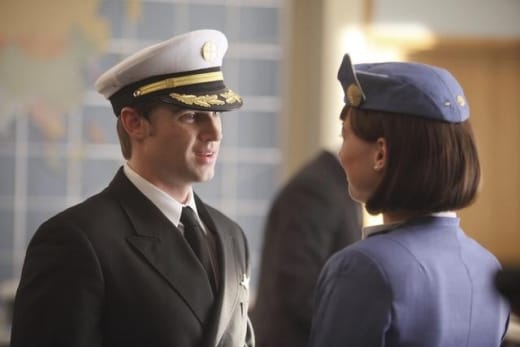 Dean and Colette mended fences after his dalliance with Bridget, as he decided the woman he thought he fell in love with was merely a facade. Colette is true and his heart yearns for more than what he had with her. In typical dramatic fashion, Colette found Dean's cufflink in Bridget's luggage to ensure a rocky road ahead, even if they've already come to an understanding about where they want to be.
Kate tried to do her national duties, but when Bridget and Laura were arrested by the Soviets as spies, all of her energy turned away from her formal obligations to her familial. She would not let her sister be left behind. Her strength and determination where shining, and you realize she's always at her best when faced with truly dire circumstances.
While the "Skydog" captain WWII flying ace who chucked Dean out of the captain's chair on the flight to the Soviet Union swindled the locals with cigarettes and booze, Dean reacted to the situation quickly and assuredly, doing everything he could to keep his crew out of danger and ensure their safe return. Anyone who thought his age would prevent him from assuming the more difficult duties of captain were wrong. On the flight home, the flight chair was conceded to Dean. It was well earned.
For those who didn't make the flight to Russia, life was equally as exciting. Maggie tried valiantly to keep her part in spilling the beans in the Village Voice article from the congressman, but he figured it out after she called out their host as an ignorant buffoon. I don't know what he was thinking, but he did tell her to be her normal, outspoken self. Did he think she was going to bend over and kiss some Republican butt?
Providence had Ted and his girlfriend, Amanda, at the same party, where he decided to propose. Amanda was not only moved by Ted's proposal, but also by Maggie's brave words. So moved that she kissed Maggie. While Maggie didn't protest, I'd imagine she will have a hard time allowing Ted to move forward with a marriage to a girl who was interested in women. Will she tell Ted?
More importantly, will Ted come to his senses? He doesn't love Amanda. He just likes her enough to do something that he thinks will make his father proud. Ted, Ted, Ted. Marrying a woman you barely know is not the way to Dad's heart. As it also appears that Amanda is a liberal to his conservative beliefs, it will never work. Unless they promise (among other things) never to attend another political function again, their marriage is doomed.
Pan Am delivered another warm and moving episode, but we have to face the music. Three episodes left - watch the preview for next Sunday's installment now! - and then it's up the the fates of Powers That Be at ABC as to whether it will be renewed. Show your support while you can!
Carissa Pavlica is the managing editor and a staff writer and critic for TV Fanatic. She's a member of the Critic's Choice Association, enjoys mentoring writers, cats, and passionately discussing the nuances of television and film. Follow her on Twitter and email her here at TV Fanatic.