Rookie Blue Season 4 to Include Time Jump, Tie Up Major Storyline
Matt Richenthal at .
The Rookie Blue Season 3 finale left viewers with plenty of questions: How could Andy turn away from Swarek's three beautiful words? Is Chris really leaving? What do we make of Gail and Nick?
For answers to these inquiries and a look ahead to Season 4, TV Line sat down with executive producer Tassie Cameron for an extensive interview, excerpts from which we've posted below. Read on and then give Rookie Blue a grade...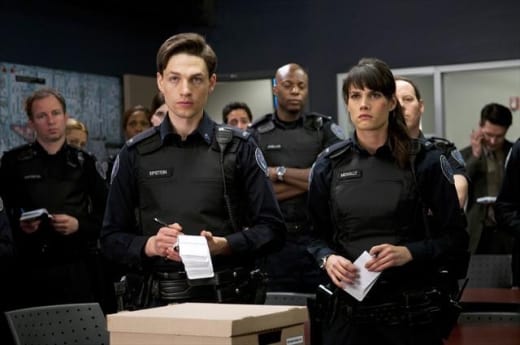 Why did Andy turn down Sam? She doesn't know he's going to come back. So she needs to move on. She needs a fresh challenge. She needs to prove herself and distract herself and get on with it... We tried to build it in a way that she had a really good argument for leaving... Then we tried to build that he has an equally passionate and righteous argument about how things went this season.
How will the show handle Andy and Nick in one place and Chris in another? That storyline is tied up in the first episode. You're going to feel like you're back on our show again by Episode 2.
Will there be a time jump? Six months. We're picking up with [Andy] and Nick in their undercover operation at the moment that it intersects with [Precinct] 15.
Will there be resolution to Chris' cliffhanger? Not in the first episode. He's going to have finally received an answer from the other police department about whether he can go or not. It'll be a decision he's trying to make.
What did you think of Rookie Blue Season 3? Give it a grade:
Matt Richenthal is the Editor in Chief of TV Fanatic. Follow him on Twitter and on Google+.