One "Surprise" later and Awkward Season 3 is completely different.
Is it possible to simultaneously like and loathe Jenna? It's a bit…awkward, but as the credits were rolling I wasn't entirely sure how I felt about this lead character.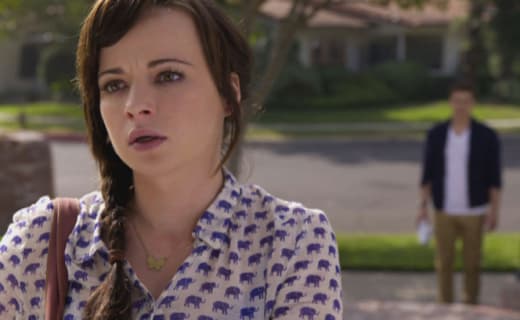 Jenna's entire justification as the first half of this season counted down was her evolution as a person, and what that evolution meant with her relationship with Matty. As much as I want to loathe her for questioning her relationship with him, she's also just trying to figure out what will make her happy.
I really like that Jenna wants to examine her options, but my loathing of her comes along with the lying. If she's having doubts about her relationship, part of growing up is verbalizing those doubts and attempting to find some solution. Instead, Jenna strung Matty along. She was willing to lie to him - and that's very selfish. The only time Jenna confronted her feelings was either being conflicted and trying to talk herself out of her actions (and then proceeding to talk herself into heading right back into Colin's arms) or when she was putting those feelings off for another time.
As much as I want to pin all the blame on Colin, he's not the biggest culprit here. Colin, much like Jenna, is exploring his own feelings, but he's exploring those feelings without stringing someone along. Colin is even willing to cut off their make out sessions cold turkey. As much as Colin is coming between Matty and Jenna, I like that he's forcing Jenna to examine all of her options, while also forcing her to think about what she really wants.
Additionally, I'm really interested in seeing how Matty reacts to the surprise. Jenna's given Matty a lot of emotional drama since their summer camp romp in the janitor's closet and he's mostly tagged along as she followed her own feelings. I'll be blunt: I don't want Matty to forgive Jenna, not right now. He deserves someone better and it's up to Jenna to rectify their relationship, not Matty.
I can't believe I'm saying this, but Sadie might be the better choice for Matty. The girl does not make many friends, mostly just enemies, but Sadie is surprisingly protective of Matty. They may never amount to anything more than friends but they are good friends and she may be just the kind of person Matty needs to talk to.
Two More Thoughts:
Ming is letting the power of the mafia go to her head, but Ming is holding the delicate balance of power. If she gives up her role as leader, then Becca will come crawling back to take back her throne. Ming can be so underused on the show that I'm just happy to see her get to do something.
Really, Jenna? Your parents going to Sea World to celebrate your birthday should've been a giant clue that your surprise party is a go. At the very least you could've waited until after you got inside the house to make out with Collin.