Max learned the true meaning of the word "family" on 2 Broke Girls Season 3 Episode 24.
How cool was it that Caroline talked Max into getting her high school diploma? Caroline has been a great influence on that girl - and yet Max has still remained that wild girl we all came to know and love back in the first season.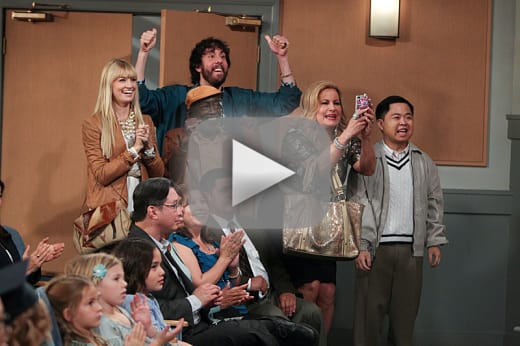 This season saw Max fall in love for the first time and while that (sadly) didn't work out, it was still a big step for her.
She also went to pastry school and though that also didn't work out, she still should be proud of her accomplishments.
I started studying last night and on behalf of all white people, I would like to apologize for everything ever.

Max
Max is like the poster child for overcoming odds and making the best of crappy situations. I swear I will never complain about my own life again, now that I've seen some of the stuff she's been through.
This episode was symbolic of Max and Caroline's friendship over the past three seasons. Caroline has kept on pushing Max to bigger and better things and with her guidance, Max has done things she never thought she would.
In private school, we never bent down to put our mouths on anything unless it had a yacht.

Caroline
For her part, Max has also pushed Caroline to do things she never would either. They have been a great influence on each other and it was nice to see them work together to get Max her diploma.
I wasn't as nervous when I rated for the results of a Hep-C test. Then again, I didn't study for that one at all.

Max
For a minute there, I thought maybe we would actually meet Max's mother, but I think it was more satisfying for her to be surrounded by her impromptu family when she accepted her diploma. Sometimes it's not the people who birthed you or raised you who become your family, but those you meet later in life.
My favorite bits:
Caroline giving Max a pastry school diploma, and a few fake documents of her own.
Not being able to un-see Max's similarity to Howard Stern once she mentioned it.
Max "grieving" by eating cookies and watching Mama's Family. What? Like that's wrong?
And now I can't un-see a mental picture of Max shaving her junk. Damn you, show. Damn you to hell.
Oleg's idea of a history question being about Rick Springfield. What? Like that's not history?
Caroline drawing the line at using a public bathroom on a public bus.
Laughing my arse off when Caroline came flying out of that bathroom.
Caroline feeling like an old lady when she saw a high school student. I am so with her on that.
Caroline giving Max a little pep talk before going out of the classroom. Aw.
Max's convoluted way of coming up with an answer about John Hancock. Too awesome.
Max accusing Mr. Huck of lying when he said she passed.
The valedictorian's voice. That is all.
Max's "family" showing up at her graduation. Aw!
Did you think Max's mother would actually show up to her graduation?