The Odd Couple Season 1 Episode 4 Review: The Blind Leading the Blind Date

Stacy Glanzman at . Updated at .
Nope, still not feeling it. 
I will say that The Odd Couple Season 1 Episode 4 showed some mild improvement and may even be the best installment so far, but that isn't really saying much. 
It probably helped that the story line revolved around my favorite character, Dani, but even with Yvette Nicole Brown taking center stage, the writing just isn't good enough to keep me invested.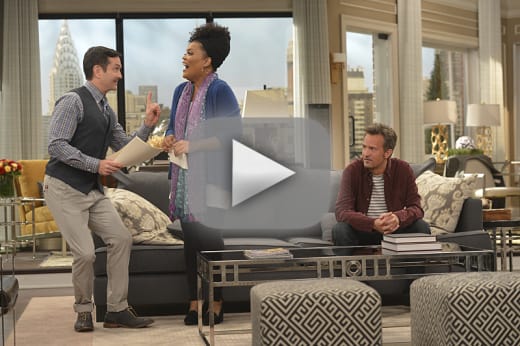 The ratings are pretty good thanks to a strong lead in, but I wonder how it would do without it? The Millers got canceled surprisingly early into it's second season which makes me wonder if they'll be more cautious about picking up this one. 
At least Dani was actually working and not hanging around Oscar's on her day off for a change. If the idea of going to your high school reunion alone upsets you that much, why bother going at all? 
I get that Dani is looking for love and it was sweet that Oscar and Felix wanted to help her, but wouldn't it be weird to ask a guy you just met to go to a reunion out of state with you? That seems a little fast. It would have been easier for Oscar to just go with Dani and pretend to be her date, wouldn't it? 
Of course, to pull that off Oscar would have to actually learn something about his assistant. I find it hard to believe that Oscar couldn't even deduce that Danielle is Dani's full name. Didn't he run a background check before hiring her? Or at least read her resume?
Does anyone else feel like the sports bar is becoming their version of Central Perk? A coffee shop is a much more logical location for a casual first date than a sports bar, though. Felix struggling to get the rowdy sports fans to keep quiet so that Dani could get to know Will was silly. 
Speaking of Felix, he is surprisingly ripped! I have to say I would not have guessed that before seeing him in that skin tight shirt. Oscar should consider working out with him. 
I'm still not a fan of the waitress, but I admit I was feeling bad for her. I'm glad Oscar called out the crazy con-artist girl and gave her some extra money, but seriously, she's lucky she still has a job. 
Four episodes in is generally when people make a decision to stick with a show or quit wasting their time, so where do you guys stand?
You'll have a couple of weeks to decide thanks to college basketball taking its time slot,  but if you're not a sports fan you can always watch The Odd Couple online until it returns. 
Stacy Glanzman was a staff writer for TV Fanatic. She retired in March, 2019.