Reign Season 2 Episode 18 Review: Reversal of Fortune
Terri Clark at . Updated at .
Reversal of Fortune was an hour to be cheered, as Reign Season 2 Episode 18 finally made Queen Mary confront her choices - her treacherous, selfish, ill-made, disloyal choices.
We can also heave a collective sigh of relief, because the King lives!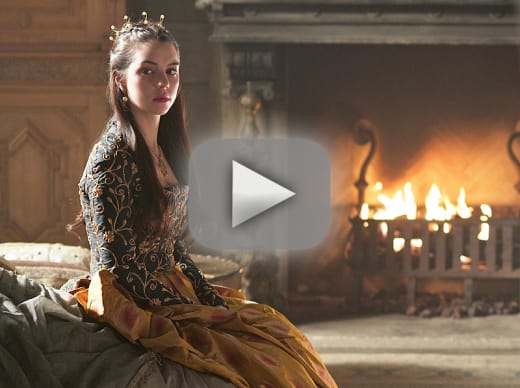 I can't say Mary caught all the hell I wanted her to, but the scene where Catherine brought her royal rage down upon her daughter-in-law was one that made me holler at the TV in support. I even watched it again for pure pleasure's sake! Megan Follows is a goddess.
Her ferocity is unmatched. I could feel her energy ripple out of my television and across my arms. I imagine acting across from her is rather like being near a live wire. 
Nostradamus always said that you would be the cause of my son's death. I never imagined you'd kill him by breaking his heart.

Catherine
But somehow, I keep finding Adelaide Kane's reactions a bit flat and it leaves me unsatisfied. There was definitely more emotion there this week, and yes I know she's supposed to be reserved and royal, but I just can't help feeling like there's some depth missing there. I just see this emotional hollowness.
On the lighter side, I can't help wondering where we are going with the Leith and Claude storyline. I enjoyed the quiet confession she gave him about always being the screw-up and how he might be good for her. A part of me wanted to root for that pairing, but I like him so well with Greer.
I do wonder if he's finally able to marry her if she won't say yes because she likes being self-sufficient and successful. I also wonder if there will come a time when Mary will learn of her madam bestie. 
As for her other friends, well Kenna's role is so trivialized now they send her into the woods merely to overhear a small detail that in the end didn't really matter and Lola is constantly advising Mary to do things that will hurt Francis.
Greer is the only one that has anything resembling a storyline and it's window dressing for the most part, as we only get to see dribs and drabs of what's going on. I want all the fun, juicy, gross details of her new occupation. I want to know how she keeps men in line.
There's story gold there and they aren't mining it! All these ladies had a much stronger presence at the start of the series. What happened?
It was rather a miracle.

Catherine
Miracle or murder? I enjoyed the twist with Clarissa, but found it heartbreaking. Bash continues to sell his soul a little more at a time. When will he cross a line he can't come back from? And what role will Delphine play in his life now? I don't think she's someone who would tattle on Bash, but she did see him commit murder. Will that come into play later?
Undoubtedly, if Catherine had to choose between Clarissa or Francis she would've made the same choice. But Bash will carry what he did with him for sure....
There is a part of me that wants to believe that Narcisse is legit in his feelings for Catherine and not just whatever best serves him. I do think he cares for her, but I'd love to see that smarmy man good and smitten. I want something to really test his affection for her.
Besides Catherine chewing into Mary, my favorite scene was having Francis wake up (Thank God! Spared for the time being.) and tell Mary that while her word isn't worth jack crap his is. I was happy to see him get angry with her and say what we've all been imagining.
Mary: I am grateful..but I have to ask the same question. Why?
Francis: You mean why, when you were about to leave France? To turn your back on the country that sheltered you as a child and abandon the crown you were given? And me, the husband you swore an oath to?
Hopefully, it was the wake-up call she needed. He was on the nose about her unfaithfulness to the country that sheltered her and to the man who never stopped loving her. As she sat with him in the end (while Conde threw a temper tantrum)I found myself hopeful.
I have to believe seeing herself through Francis' eyes, knowing she lost his trust, will make her take a good long look at herself and want to make amends for her many betrayals. 
If you didn't see Catherine's royal rage make sure to watch Reign online.
What do you think? Did Mary get her just desserts? Will she kick Conde out of the castle? Did Bash do the right thing? Do you ever see Leith with Claude? And when will the ladies in waiting get better storylines?
Terri Clark is a staff writer for TV Fanatic. Follow her on Twitter.