CRY! GET ANGRY! SNAP OFF THAT ARM BEFORE THE BITCH CLIMBS OUT OF THE POD!
So many thoughts were running through my head while watching Under the Dome Season 3 Episode 7, and frankly, none of them were rational.
The pod people are lemmings, not just willing, but purposefully seeking windows to walk out of without their dear Christine to follow. Didn't they at least get the message she was going into hibernation? What kind of crappy queen is she, anyway?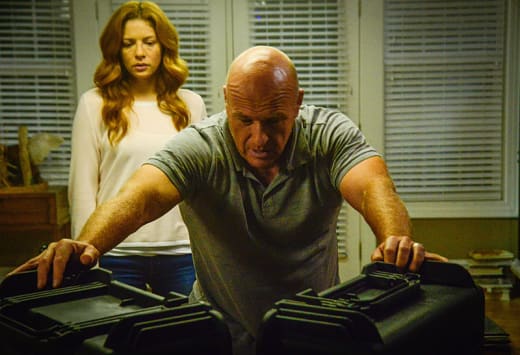 I suppose the entire purpose of the series occurred during this hour, or would have if it was to make any real sense. Ideally, an alien race would have put the dome over the humans like an ant farm, to keep humans safe during an extinction level event. Cool. I could live with that.
The fly in the ointment here is that Christine and the drones/lemmings appear to want the earth for themselves, or only a slice of it, and just so happened to pick this planet, which was set to undergo the exact same thing that happened to their home base. WTF? That's some seriously poor travel planning. 
That was what Junior was explaining to Sam as he accompanied Sam into the cave at the end of the hour. "The Great Destruction" seems to follow these losers around. Take the hint. Destruct already. Apparently nobody likes your kind wherever you are.
Oh well. We're stuck with them until the fab five determines how to angry cry them out of power. More on that in a minute. First, let's touch on a couple relationship items.
Barbie? You gotsta go as James Franco would put it. Watching him rip that dog-tag (or whatever) off his neck and toss it behind him like a piece of garbage made me want to puke. Kinship this and kinship that. Shut up! Eva taking off her shirt to try to sex him into not wanting to save the people outside the dome? They brought on two females who use sex as a way to manipulate into submission. What were they thinking? 
There's not a slice of Barbie left in there. If there is another season coming, it's time to kill him off. Mike Vogel is going to Childhood's End on Syfy. He'll do well there. Buh bye Barbie. Emotion, apparently, doesn't save you from the pod people if you can turn your back on families as a big wall of flame is ready to envelop them. So, we can't save you, either.
Julia: Here boy. Indy.
Big Jim: That all you got? You gotta put your gut into it. INDY!!
Julia: He's a dog. He can hear us. I'm trying not to scare him away.
Big Jim: Indy's not a liberal. He doesn't get scared at everything. INDY!!
Julia: INDY!!!
Big Jim and Julia, on the other hand, were a hoot. He tried to pretend he wasn't noticing how well they were getting on, but they will be able to save what's left of the world together, and that's a pretty cool development. If I had placed bets on something like this happening during Under the Dome Season 1, I would have lost. 
In a season that is so uneven to the point of ridiculousness, these two have managed to be a bright spot. That's a testament to their skills and chemistry as actors, because it transcends what's in the script. Dean Norris and Rachelle Lefevre are bringing their A game to a C project, and it's recognized and appreciated.
For example, Julia was the only person who looked at the exploding world outside the dome and truly recognized it for what it was and had a semi-authentic reaction. Remember, it's only been three weeks since all this started, so to learn the world is ending by meteors crashing to the ground should evoke just a bit more than a simple, huh type reaction, even given their other odd dome and alien issues.
Sadly, instead of just letting all of the drone/lemmings just plummet to their deaths out of the nearest window, they probably feel obliged to save a few of them to, you know, inhabit what's left of the earth. Although I'd think twice, especially given the fact resources will be even further diminished with the new circumstances. Let the weak die off. Save the few, the brave.
Christine is trying to keep us from having emotions because when our feelings surface, so does our humanity.

Norrie
Norrie discovered the way to beat the aliens. How the kinship managed to keep the herd calm enough to lemming them after three weeks is beyond me, but we're rolling with it. Now the fab five is together, and they're going to go make the town really mad and/or really sad. After watching Kingsman: Secret Service, I'd say going the sad route would be a better option overall for the emotional fever pitch, but we'll see what direction they head on Under the Dome Season 3 Episode 8, I guess.
The question is, will you still be around? Do you buy the extinction level event for humans? Do you have any thoughts on why aliens would come all the way to a planet that was going to experience the same great destruction as their home? What the heck is going on? Are you ready for Barbie to take a meteor to the head? 
Rock on people. Or, meteor on. I know you're still out there. We're all watching this train wreck. You didn't give up, did you?? Really...did you?? Hit the comments!
If you missed any of this whiz bang season, you can watch Under the Dome online to see what all the fuss is about. 
Carissa Pavlica is the managing editor and a staff writer and critic for TV Fanatic. She's a member of the Critic's Choice Association, enjoys mentoring writers, conversing with cats, and passionately discussing the nuances of television and film with anyone who will listen. Follow her on Twitter and email her here at TV Fanatic.