Under the Dome Season 3 Episode 12 Review: Incandescence
Paul Dailly at . Updated at .
The end is near!
Under the Dome Season 3 Episode 12 got us one step closer to the series finale, and in true Under The Dome fashion, it continued to throw the stupidest plot twists our way. 
I clapped when I thought Barbie was going to kill Christine, but when they started to throw a redemption story into the mix, I almost threw my remote at the TV. Christine is a villain, and I couldn't care less about her, so why would I care about a goody two shoes version of her? Thankfully Queen Eva ended her reign of terror for good.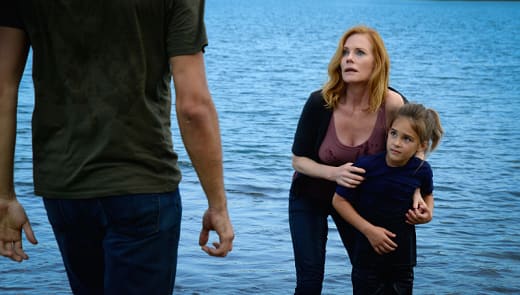 Well, not for good, but at least we probably won't see Christine on the series finale! I might be in the minority, but I can't quite fathom where this Queen Eva storyline is going. She's an adult a mere few days after she's been conceived. Does that mean she'll be strutting about Chester's Mill with a walker? 
Julia's whole scene in which she tries to comfort Barbie was just more poor character development. In reality she'd have him strung up, making him promise not to ditch her again. Amiright? 
The Aktion storyline continued to take up more time than it should. Let's face it. We don't care about it. All we want is that darn dome down and a plausible ending. Plausible and Under The Dome don't exactly go well in the same sentence, right?
I am glad that we lost both Christine and Hektor. Let's hope they don't pop back up in the finale because that would just be freaking annoying. Let the two of them be happy off screen. 
Did anyone else think that Joe was getting killed off? Everything that happened to his character spelled a certain doom and the way he said goodbye to Norrie sort of fueled this. Joe is one of the best characters on the show, and it would be cruel to have him die on the penultimate episode. I hope he is badass in the finale and the town can return to some sort of order. 
Under The Dome has been canceled. Honestly, I normally get so cut up about shows meeting their demise. Not just for the fans, but for the people that work on them, but this show really deserved it. However, I think if this whole Kinship storyline was never introduced, we'd probably be singing a different tune about the show's fate.
"Incandescence" was all over the place. There are just far too many characters to care about, and the majority of the storylines are just leading us down the rabbit hole. At least when Lost was all over the place and confusing us, it was still good!
There are so many questions up in the air as we head into the last-ever installment. Given how late in the game the cancelation was announced, I hope there is sufficient closure because this show must have the most patient fans on the planet. Either that, or you're in purgatory, and it's the only show you can watch.
Remember you can watch Under the Dome online, right here on TV Fanatic. Get caught up now. 
What did you think of the episode? How will the show end? Hit the comments!
Note: Under The Dome Season 3 Episode 13 airs Thursday September 10 at 10/9C on CBS.
Paul Dailly is the Associate Editor for TV Fanatic. Follow him on Twitter.