American Horror Story Season 5 Episode 6 Review: Room 33
Miranda Wicker at . Updated at .
It might have been short lived, but the love between Liz and Tristan is one for the ages. And the Countess cannot handle it when anyone else is happy when it means she might have to give something up. 
American Horror Story Season 5 Episode 6 was an excellent installment to set us up for the back seven episodes taking place inside the Hotel Cortez.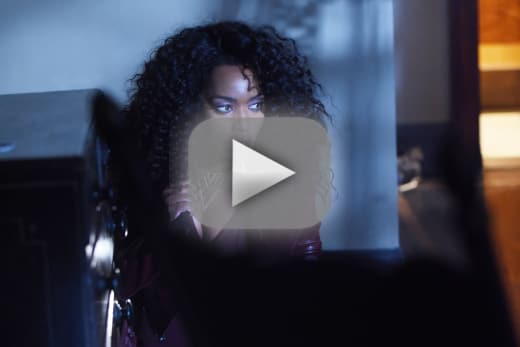 Liz and Tristan falling in love sort of came out of nowhere. It didn't last long and might not have been the thing that stands the test of time. But it was poignant in that we saw, again, the lengths to which the Countess will go when she believes she's been betrayed.
She doesn't handle heartbreak well at all, and whether that's out of a sense of selfish entitlement or something else remains to be seen.
Thanks to the excellent setup of Liz's story last week, tonight I was all in on hoping she would find happiness with Tristan. That just this once, there could be a happy ending. But this is American Horror Story, and the only way people end up on this show is dead. Which is what happened to Tristan.
How cruel was it that she let Liz and Tristan believe she would allow them to be together only to slice Tristan's throat wide open with her glove? Ugh! Devastating!
But not unpredictable. 
Ramona tried to leave the Countess after 20 years together, and in retaliation, the Countess killed a studio full of people. She's just not one who loses. Ever. She is the house and the house always wins. 
Which means she's definitely headed for a fall, and soon. Ramona couldn't get to the Countess' immortal and eternally infantile baby, but Alex can.
The revelation that the Countess had a baby in 1927, a baby which turned out to be something of a monster, no less, shed light on why she's so obsessed with the children. Her son never grew up and has been locked away in Room 33 for nearly 100 years, so she surrounds herself with surrogates and dresses them in old clothing to imagine what it would've been like if her son had been normal. 
For a while I thought that surrounding herself with the children had something to do with borrowing their youth. Somehow I like this motherhood angle more. (I wish we hadn't been shown the baby's face, though. Murphy should've borrowed from Hitchcock and continued letting us imagine what sort of deformities the infant was born with.)
What I see as a possibility is that something will happen with Holden and in retaliation, Alex will take Bartholemew. Taking Bartholemew will kill the Countess somehow. I'm probably totally wrong but it's fun to speculate. There's always a chance we'll never darken the doors of Room 33 again for the remaining episodes, or Drake will enter the room and decide he can't love the Countess after all.
The Countess and Drake are moving right along with their bad romance. She's seducing him every chance she gets so that she can get her hands on his money and stay in her hotel. Meh. It's hard to care about that story right now. There's so much else to think about.
John Lowe, our "protagonist" of the season, if we actually have one of those, has packed his bags and moved out of the Hotel, which is a very, very good thing. Now he'll be able to get some perspective on what it is he saw and experienced while living there, and maybe, just maybe, he'll be able to put his life back together and salvage his relationship with spare child Scarlett.
It really, really bothers me how Alex just...wrote her off. She's just washed her hands of a, what, 8? 10? year old girl, and she's done being Scarlett's mother. I can't fathom it even a little bit. At least now we know the girl has gone to stay with her grandmother, and she's not home alone. Now if only John can get himself straightened out and make amends with her...
Right now, nearly every character on the show is falling completely apart, but somehow the season feels like it's pulling together nicely. We do still have seven episodes though, so anything can happen.
What did you think of "Room 33"? Did you miss Hypodermic Sally? How will Liz retaliate for losing her love? Sound off in the comments below and don't forget to watch American Horror Story online!
Miranda Wicker is a Staff Writer for TV Fanatic. Follow her on Twitter.