Girlfriends' Guide to Divorce Season 2 Episode 10 Review: Rule #36: If You Can't Stand the Heat, You're Cooked
Carissa Pavlica at .
Just when I thought there might be no surprises at all on Girlfriends' Guide to Divorce Season 2 Episode 10, Abby's single white mommy dream went swirling down the drain when Becca gave birth.
Why oh why oh why didn't I see that coming? 
It had to be that the more tuned into Becca and her life Abby became the less likely it was for viewers to ponder the reality of the story behind the baby, right? It was a pretty good bait and switch. It worked on me! Did it work on you?
It felt like we got a pretty good list of Monogafication dos and don'ts from that gals as they worked their way through "If You Can't Stand the Heat, You're Cooked."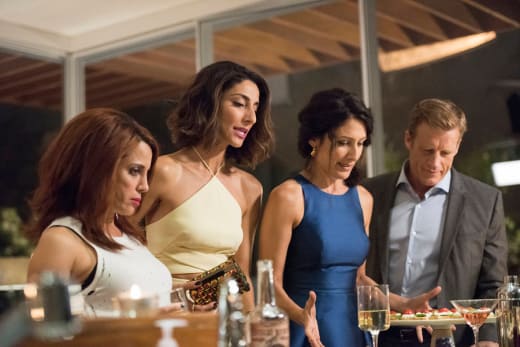 What didn't work on me was Abby's final and desperate attempt to monogafy Harris. Of course, she didn't have the hand up that we had of seeing his face as she talked to him on the phone. 
Then again, he never really gave an indication he was anything but a player. He talked a good game, but his actions didn't once portray anything but a charming guy who wanted to be something other than what he was capable of being.
It was kind of the pot calling the kettle black when he had the nerve to call her a little nuts. At least she can cop to her crazy. He thinks he's got it all together.
Sadly, Abby knew in her heart Harris wasn't her guy and learned that lesson a total of what, three times total before it sunk in? It's time to toss that man to the curb. And if that's not a horrific cautionary tale to dig into for her new book, then what is? I guess she can make it horrifically funny to sell. I'd read it!
There's something really awesome about knowing attractive, fabulous people stumble out of the gate that helps us real people to keep on trucking. I know some people look at it as if the attractive, fab people can't win, how can we, but I see it completely opposite.
The bottom line is...does this Becca story change the way Abby will feel about Jake? Can I still have hope for their future?
We learned Phoebe still has kids! They mentioned them as a way to bring Ralf back into the picture. I didn't really miss him. JD was making great strides until he came along.
Almost surprisingly great strides, actually. Didn't you think it was amazing how comfortable JD was in a crowd? He was better with a little coaching than I can be. Hopefully he'll forgive Phoebe for going along with Ralf and remaining an enigma. 
Phoebe does much better with the normal guys than she does with the wealthy sorts, so keeping him around is worth the awkward start to their relationship.
Delia is now paying for her affair by feeling guilty for pretty much anything that goes wrong in Gordon's life. She's definitely giving him a pass for his behavior due to her own, but I can't blame her. 
When it comes down to a business problem as large as the one he was suffering, a night out with the girls kind of pales in comparison. Pushing it when he was so stressed wasn't going to make anyone comfortable. But deciding to move to New York for a while? Yep, Delia wants to get away from what she's done.
Again, it's impossible to blame her for that. And seeing the way Gordon is acting after having a bad shipment of shirts kind of diminishes the desire to tell him the truth about Albert. It doesn't seem he'd be as understanding as the Gordon I thought we were working with, you know?
The best, best, best thing of the night was Scott finally coming clean with Jo about how he feels. From the moment he arrived on the scene, I KNEW he had a thing for Jo but hadn't told her. 
Their discussions during this hour, with Jo wondering why he was being nice, why he would care about her or want to worry about her made me sit up in my seat and clap and squeal. 
The kind of relationship they're working toward could be real. Granted, the writers could take the easy way out and turn Scott into a one trick pony who just likes to screw after all, but I really hope that's not the plan because it hasn't been the trajectory so far.
Even his screwing at Rize has always seemed to be a way to try to get Jo to notice him. Childish? Hell yes. But genuine. 
Let's hope Abby's couch is better luck this time for Jo and a lover than it was the other go around. I really want this thing with Scott to go somewhere. Am I nuts? Maybe you should be careful how you answer that! 
What did you think of "...You're Cooked"? Are you glad Abby is done with Becca and Harris? Hopeful for Phoebe and JD? Jo and Scott? Worried for Delia? Hit the comments you guy! I love hearing from you. I'm so glad we finally have a community!!
And if you missed anything, you can always watch Girlfriends' Guide to Divorce online right here via TV Fanatic. Whew!
Carissa Pavlica is the managing editor and a staff writer for TV Fanatic. She's a member of the Critic's Choice Association, enjoys mentoring writers, cats, and passionately discussing the nuances of television and film. Follow her on Twitter and email her here at TV Fanatic.