The Bordelon family has frequently shown us what pulls families apart and what brings them back together again. Queen Sugar Season 1 Episode 11 was all about coming together to fight what ever opposition comes their way.
But let's not kid ourselves, this fight is going to be huge.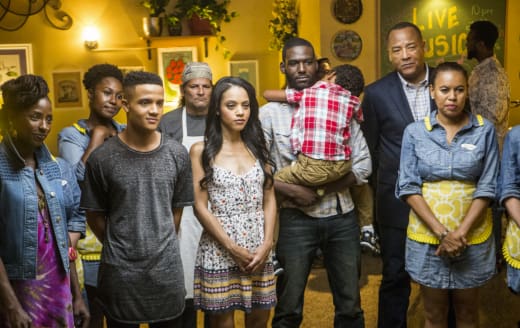 Trying to get their harvest to a mill outside of the parish is going to be expensive and risky, but as Charley so succinctly put it in this Queen Sugar quote…
At least the mill in St. James isn't owned by a family that owned our family.

Charley
If the Landrys and Boudreauxs can't buy out the Bordelons, they've made it clear that they're looking to crush them. 
Can they get a farm loan elsewhere? Can Charley pull together the funds some other way? I keep wondering how much that diamond on her finger is worth and if she'd part with it to save the family farm? 
Jacob Boudreaux has mentioned more than once that he and the Landrys own all of the land surrounding the Bordelons' farm. Although water doesn't seem to be a problem in Louisiana, what about the roads? Are they public domain or can the Landrys block any work truck from getting on and off the property? Could they stop the harvest from ever making it to any mill? 
As Ralph Angel said himself…
I don't know and she don't know, but we got to do something. We ain't going out like this.

Ralph Angel
It's clear that the Bordelons are ready for a fight, but with the season finale looming just a couple of weeks away, I can only imagine the drama Queen Sugar Season 1 is leading up to. I'm trying to prepare myself because I expect it to be an emotionally wild ride. 
Elsewhere, Charley announced she had filed for divorce from Davis, something that was met with both relief and support from her family. 
When they don't realize what they have in us, when the violate the love we give, you've got to cut 'em loose.

Violet
Remy's shy smile was adorable, and his and Charley's kiss was both sweet and smoking hot. The only downside was Micah walking in on them.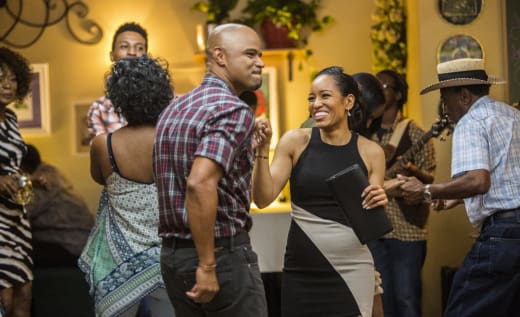 Micah didn't react well, but as Nova pointed out to Charley, he's 15, and he's had a hell of a lot to deal with in the last few months. He desperately needed some time to process it all. Plus, it's easiest to take his anger and frustration out on his mother; she's there every day, while Davis is off doing god knows what with god knows whom. 
Nova stepped up as Charley's sister in this installment and let Charley open up about her concerns about the divorce, Micah, and moving forward. 
I was intrigued by the ceremony Nova performed calling on the Nigerian goddess of pleasure. As with any religion or spiritualness, its power lies with the strength of the person's belief, but there's no doubt that Charley could use some help breaking free of the guilt, fear, and regret she's carrying around right now. 
My favorite moment was Nova taking the time to talk to Micah…
Your momma's been put through the ringer. Put yourself in her place, the betrayal, the humiliation. Taking every arrow while trying to stop every arrow from hitting you. Everybody don't have a momma like that.

Nova
Watching Aunt Vi transform the High Yellow gave everyone something to look forward to, and it brought everyone together. Vi even began to soften with Darla, which was something I wasn't sure we'd see this season.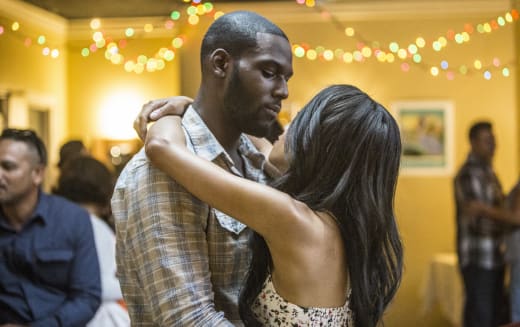 And as much as I like Blue's teacher, it was wonderful to see Ralph Angel and Darla coming together as parents. Who would have guessed we'd see that occur when we were watching Queen Sugar Season 1 Episode 1. 
Want more Queen Sugar? Then check back in on Monday for our Queen Sugar round table, and if you can't wait for more, you can watch Queen Sugar online here at TV Fanatic. 
C. Orlando is a TV Fanatic Staff Writer. Follow her on Twitter.