Scandal Season 7 Episode 5 Review: Adventures in Babysitting
Paul Dailly at .
Olivia Pope is a woman of many talents, but she does not like to admit when she's done something wrong. 
On Scandal Season 7 Episode 5, Fitz was very much back in the picture, and while it was fun to watch the former loves spar with each other, it all seemed a little too childish. 
If you watch Scandal online, you will already know that Olivia has been struggling with all of the power she's worked her butt off to get over the years. In short, there is no way she's going down without a fight. 
It was about time she was knocked down a few pegs. The biggest betrayal in her eyes was Fitz going to blab about her title as the command. It paved the way for the mother of all showdowns with Mellie, and it was thrilling to watch Mellie shut it down. 
Olivia should not be going behind Mellie's back full stop. There needs to be some trust if they are going to be able to change the world. They speak about changing things up all the time, but it takes trust to work together. 
Fitz revealing his true motives was a welcome surprise. He was honest about Olivia's hunger for power and the fact that she is trying to get as far away from her former self as possible. 
What was good about it was that it sent her back to her old office. Subconsciously, she knew something was not right, and Quinn was the one to make her see the light.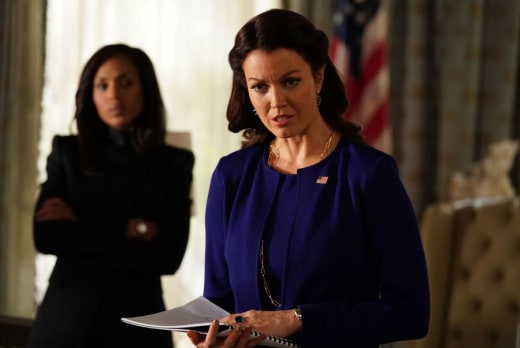 All Olivia had to do was ask Mellie what she wanted to get them back to the way they were. While this shows just how much Olivia has only cared about pushing her own agenda, it made me hopeful that Olivia can get that white hat firmly back on her head and quit being so mean to everyone. 
Curtis was always going to be a temporary boyfriend, and that's because she has this Liv has this epic love story that fans have been invested in for several years. If the show ended with them not together, there would be a whole lot of negative press for the show. 
Curtis wisening up to Olivia's manipulation was fun to watch. In a matter of a few scenes, he went from being completely besotted with her to thinking she was the devil incarnate. It would be great to say that Curtis is going to be out of the picture, but it seems like Olivia is going to try to redeem herself in his eyes. 
More than anything, Olivia seeks validation for her actions, so is not one to be discounted without putting up a fight. 
I can't even begin to explain my frustration with the plane exploding in the closing moments of the hour. It was far too predictable. The typical rule of thumb with Scandal is that if something nice is happening at the end of the episode, there will be a last-minute twist. 
The only plausible twist here involved the plane and considering Quinn and Charlie were saying their goodbyes, the powers that be had to do something to get them more involved with what was going on in the world. 
Everyone at QPA built a relationship with Yasmeen, so don't expect them to let Olivia stop seeking revenge. There is going to be a lot of pushback from the explosion because it happened on U.S. soil where both family members were apparently safe. 
If it turns out Olivia was the one who orchestrated the explosion to get Mellie her war, there will be no way to redeem her. There are only so many a times a character can be forgiven, and I draw the line at murdering innocent people. 
Mellie is going to be hit hard by the death of Rashad. She genuinely had feelings for him, and although she tried to fight the urge to sleep with him, she likely knew it was going to happen eventually. 
I'm not entirely sold on Fenton as of yet. Maybe it's because Cy has such a horrible track record with men that the very notion of him being in a relationship is a bit too much to handle.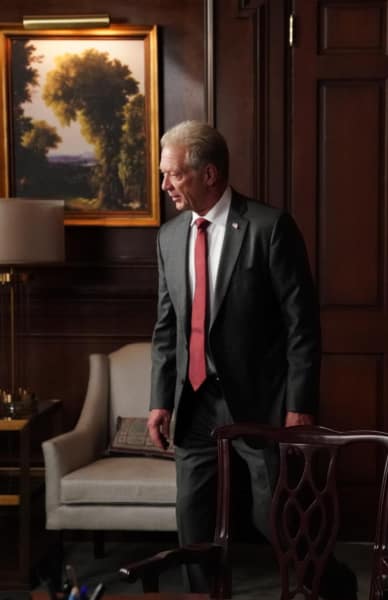 Cyrus likes to have all the power in a relationship, and it seems like Fenton could be his most challenging conquest yet. Time will tell whether they have any longevity, but considering a villain is yet to emerge, it might turn out that Fenton is just that. 
"Adventures in Babysitting" was an that had some powerful moments, but it was bogged down my multiple nonsensical plot developments that continued to drive home the fact that Scandal should have concluded by now. 
Maybe the episode order was too big for Scandal Season 7 because it feels like the show is running on fumes and we still have a lot of episodes left to air. 
Over to you, Scandal Fanatics. What did you think of all the developments?
Sound off below!
Scandal continues next Thursday on ABC!
Paul Dailly is the Associate Editor for TV Fanatic. Follow him on Twitter.