Pretty Little Liars Review: The Secret, and Doctor, Are Out...
Matt Richenthal at .
For the first time in ages, the Pretty Little Liars got a positive text message near the end of "I Must Confess."
Unfortunately, it was immediately followed by another A-bomb, this one informing the gals that the doctor is out and, we can only imagine, the revealing of their secret will have them in a lot of trouble heading into next week's summer finale.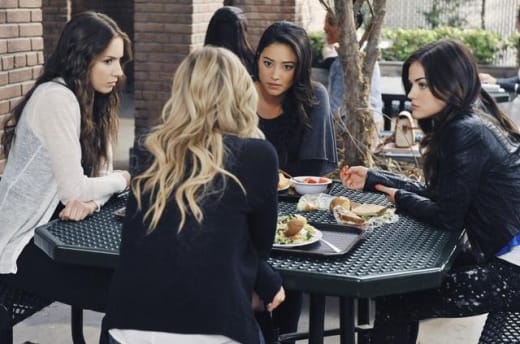 For a penultimate episode, this hour was a pretty big letdown, don't you think? What did we really learn? What cliffhanger are you dying to resolve next Tuesday night?
Spencer's dad shed a bit of confusing light on the DiLaurentis family, while opening up the possibility that they're blackmailing him somehow, but I've grown tired of all this suspicion over Jason. At this point, I'll be more shocked if he
did
have a hand in Alison's murder than if he did not.
Elsewhere, let's go over the pretty little lessons we learned on Pretty Little Liars:
Kate is the world's worst schemer. Or Hanna is a major lightweight. Regardless, was that really her dastardly plan? To get Hanna drunk on her own accord? Yes, it worked out perfectly because it was written to work out perfectly, but considering how excited I was last week at the possibility of Kate being a true, evil nemesis, this was quite the disappointing start to the girls' feud. Someone needs to take a lesson from Blair Waldorf.
Maya is still smitten. I'm not leaving before my calamari wasn't a euphemism, was it? Either way, Maya clearly still has feelings for Emily and vice versa. These two are a much better match than Maya and Samara, as the latter came across more as a stalker than a lover. But what kind of future will Emily and Maya have if A is still getting between them? Open up, Em, things can't get any worse for you anyway.
Secrets, secrets really are no fun. Thank goodness the girls actually told Dr. Sullivan about A. It was getting tiresome and repetitive for them to continually fight this battle on their own. It was also a nice development to see the doctor actually... killed? Kidnapped? Harmed in some way, at least. And I don't say that just because I dislike her hairstyle.
I say it because A has to actually do something, doesn't she? Very little actual action is taken each week, just a lot of talking about the action A could take.
Adults might know best. Along similar lines of the girls confiding in the doctor, it was a welcome step for Mike to open up to his parents. We know of one dirty cop in town, yes, but the teens really should let their elders play more of a role in their dangerous lives. And the adults should wake up to the happenings around them.
So, as I asked above, what are you most looking forward to on the finale? I say it every week, but it bears another chorus now: The show should resolve this A mystery and move on. Sadly, there's absolutely no chance we'll learn A's identity next week (creator Marlene King has made the mistake of saying we won't discover it until the series finale), which takes away a great deal of drama.
But I'll just be happy if any significant development changes the game a bit. How about you?
Matt Richenthal is the Editor in Chief of TV Fanatic. Follow him on Twitter and on Google+.