NCIS: Los Angeles Season 4 Report Card: B+

Carla Day at .
NCIS: Los Angeles season 4 was driven by the search for stolen Soviet nukes that were dug up after being hidden in American soil. This case brought Sam's wife out of retirement to return to an undercover role of Quinn.
While the team took on other cases throughout the year, the search for the nukes was the highlight of the season.
Check out the NCIS: LA Report Card below and then stop by and review some of our other Report Cards: Person of Interest, Castle, The Big Bang Theory and Once Upon a Time.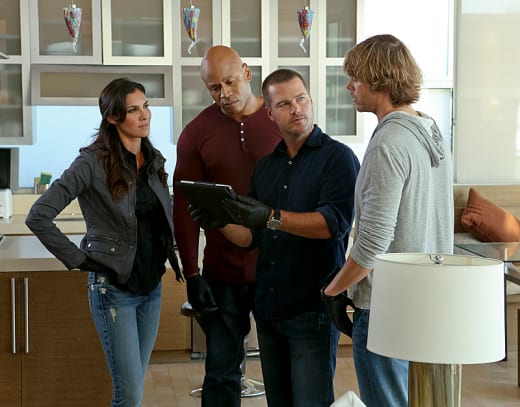 Best Episode: The finale, "Descent," was one of many excellent episodes, but it gets the top spot for a few reasons. It was an intense hour with non-stop action, put the NCIS agents in peril, and most importantly was a nice bookend to the season. The premiere dealt with the aftermath of Callen shooting the Chameleon (Marcel Janvier) and he returned to help NCIS with their other ongoing case to find the stolen nukes. The "To Be Continued" aspect was annoying, but despite that it was the best hour of the show.
Worst Episode: Without a doubt, the worst non-planted spin-off hour was "Dead Body Politic." The writers clearly wanted to do an election themed episode, but this one didn't work. There was no plausible reason for NCIS to be involved and the case itself wasn't entertaining at all.
Biggest Controversy: The torture of Sam and Deeks by Sidorov. It was horrific and with Michelle's undercover identity and life at risk it raised the stakes beyond their own pain. That said, I was surprised by the controversy over the torture scene.
Best kiss: This is a tough one. I would have said Eric and Nell's fun mistletoe kiss in "Free Ride" up until the finale. I've been against a Deeks and Kensi romance for so long, but Deeks kissing Kensi after her nagging him about his communication skills was the perfect response. I can't believe I'm warming up to a potential romance between them. I can't decide, so it's a tie!
Biggest Waste of Two Episodes: The backdoor pilot episodes for the potential NCIS: Red were just awful. The concept of the series was intriguing, but the storytelling and the characters were not. Behind the election episode, these two hours were the worst of the season. 
Biggest Shocker:  In "Ravens and Swans," Hetty admitted that she recruited "a lot" of orphans and trained them to be operatives. Whoa. Now that would be an spin-off I wouldn't mind seeing. Hetty and her adult orphans on secret missions around the world!
Best Smell: Sunshine and Gunpowder!
Hopes for season 5:
Deeks doesn't break and protects Quinn. And, then Sam gives him the grandest, most sincere apology for treating him poorly and questioning his loyalty and worthiness to the team. Either way, Deeks risked his life and was submitted to torture for saving Sam's life.
Deeks and Sam are rescued without any permanent psychological or physical damage.  And, Quinn is saved by Kensi. No deaths when the show returns.
Hetty and her orphans are explored.
The stolen nukes are found and that storyline is concluded. 
More episodes that focus on national security issues, undercover work, and action. No more episodes that are outside NCIS's scope.
YOUR turn, TV Fanatics: Grade the season now...
Carla Day is a staff writer for TV Fanatic. Follow her on Twitter and on Google+.