Dexter's Masuka is back! And this time he's taken a turn for the dark side, playing the Unsub on Criminal Minds Season 10 Episode 2.
This entry about a troubled man plotting revenge against his father had an entertaining flow to it, despite the fact that it was fairly outlandish in its scope.
But then, so many Criminal Minds stories skate along the outer limits of believability, don't they? A truth in all of them is that the mind is a very weird place for a lot of people and so the only real limits to behavior is whatever the mind can imagine.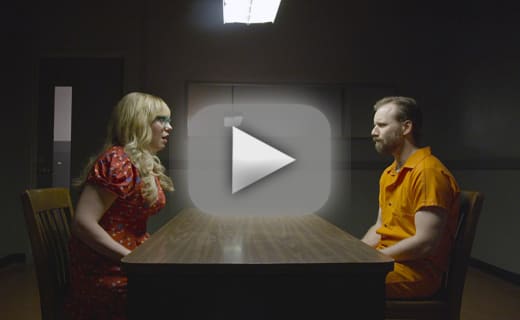 Still, it was hard not to laugh upon realizing that C.S. Lee (Masuka) was the perp in this story. Especially when we saw his first get-up: a black onesie bathing suit. I fully expected him to giggle.
The more startling story was the brief rupture between Garcia and Morgan. You couldn't help but be shocked by this exchange:
Garcia: I have to go see and him. Please. I can't talk to Sam about this, you have to have my back.
Morgan: No. I don't have your back. He is a murderer. He's scum. He tried to kill you. Wake up. Let me know when you're done washing his feet.
Really? After years of close companionship and hardship and heartache, Morgan has the ego to deny Garcia at least a listening ear? 
I mean, I get that he has a lot of anger against the man who attacked Reid and her. However, at what point do you stop saying "I love you, you're wrong - but I've still got your back"? 
The thing I liked about their whole exchange was that it's real. This happens in real life for many people. Relationships are wrecked out of misplaced anger and over-protectiveness. You don't have to like it - but it doesn't matter because it happens anyway.
The voicemails she left Morgan - one of which was captured in the Criminal Minds quotes for this episode - were heartbreaking.  At the end of the day, she just wanted him to be there for her, a fact not lost on her when she realized that's exactly what Baylor wanted from her. To be there for him at the end of his life.
I was glad to see Morgan waiting for her when she got home. Anything else would have been just wrong.
All in all, this was a well-written episode.
What did you think? Were you pleased to see Masuka again? Will Garcia get closure for having been there for Baylor?  Will her nightmares go away?  Watch Criminal Minds online, and let us know your thoughts in the comments!
Douglas Wolfe was a staff writer for TV Fanatic. He retired in 2016. Follow him on Twitter
.