Sons of Anarchy Season 7 Episode 9 Review: What a Piece of Work Is Man

Christine Orlando at . Updated at .
There was yet another devastating death on Sons of Anarchy Season 7 Episode 9 and if you haven't watched the episode, STOP READING NOW!
Consider yourself warned.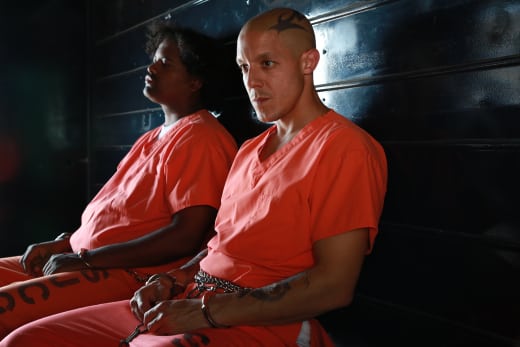 Bobby's death wasn't completely unexpected. I kept waiting for someone close to Jax to end up dead and I had little doubt it would be brutal. Bobby certainly suffered for the club. He was a loyal soldier to the end and other than friends who will mourn him, I'm not sure what he got for his sacrifice. 
As Jax lamented that he just wasn't smart enough, I almost had to agree. Hiding the gun on Bobby and breaking his jaw so he couldn't tell anyone was a brilliant strategy. Then again, cutting the head and arms off of the Pastor and sewing them onto another body so that his torso could still be found on Pope Construction property was also the work of evil genius. Perhaps we'll call it a draw.
I kept waiting to see Gemma's face when she finally saw Bobby's body and we never actually got that shot, just her horror at his murder. I'd almost think the reality of what they did to him before they finally killed him would make it worse. In essence, Bobby paid for Gemma's sins as her lies led them all down this road of destruction and pain.
Every week, Abel loses another piece of his innocence and perhaps his sanity. Jax and Gemma are so caught up in their own chaos that they can't even see it. When Gemma told Wendy that if she wants to help Jax's son she needed to play by his rules, I began to wonder if Wendy could be pushed to find a way to stand up to Jax if it meant saving her son.
Gemma was a living on the edge the entire episode but that's nothing new. Gemma's issues with females in authority positions spilled over into a serious shoving match with Sheriff Jarry where she called her out in this Sons of Anarchy quote...
You can't play both sides, Sweetheart. You're on the club's dime and Chibs' dick.

Gemma
How that ended up with Jarry demanding that Chib's have sex with her on the hood of her patrol car still boggles my mind. 
Between the Indian Hills charter calling for a vote against Jax, August Marks' enforcer still roaming free, Juice getting thrown in solitary and Unser and Jarry getting closer to solving Tara's murder, the walls appear to be closing in on Jax Teller.
If you missed one minute of the mayhem, you'll want to watch Sons of Anarchy online here at TV Fanatic. 
And here is your first look at Sons of Anarchy Season 7 Episode 10, "Faith and Despondency."
C. Orlando is a TV Fanatic Staff Writer. Follow her on Twitter.