You're the Worst Season 2 Finale Review: The Heart is a Dumb Dumb

Caralynn Lippo at . Updated at .
You're the Worst Season 2 Episode 13 wasn't the best of the season, but it was pretty much the perfect capstone to this season.
It nicely closed many of the ongoing arcs while still moving our characters forward and developing the relationship at the heart of the show.
Gretchen and Jimmy exchanged I-love-you's (in the most quintessential Jimmy and Gretchen way, of course).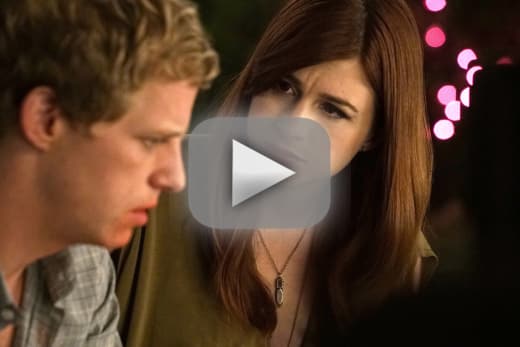 Tonally, "The Heart is a Dumb Dumb" was much lighter than many that came before it this season.
As much as I adored You're the Worst Season 2 Episode 12 and powerhouse performance episodes like You're the Worst Season 2 Episode 9, "LCD Soundsystem," and You're the Worst Season 2 Episode 7, "There Is Not Currently A Problem," I firmly believe that a lighter finale like this one was the perfect way to close this season out.
As hilarious and eminently watchable as the whole season was, you can't cap a string of emotionally daunting and darkly comic episodes with a downer of a finale. It wouldn't have been nearly as satisfying.
Nearly all of the characters (and the various couplings) ended things on an upswing. Of course, since this isn't your standard sitcom fare, some of the apparent upswings had a decidedly darker underside (take Lindsay and Paul's ending, for instance), and there was no intimation that everyone would simply ride off into the sunset together, happily ever after.
Nope; plenty was set up for an equally epic season three. These people are still the worst, after all.
Mirroring season one's finale, this one was largely set at a Becca and Vernon party and also had a musical moment that featured Lindsay (among tons of other parallels). Whereas this time last year Becca and Vernon had a party to announce their pregnancy, here the party was thrown for the impending gender reveal. Vernon, being Vernon, brewed up some of his world-famous trash juice. Becca guzzled wine. Jimmy got trashed. It was a hell of a time.
To begin at the beginning: Jimmy and Gretchen opened the finale by casually chatting about Jimmy's hookup with Nina, establishing that the air was 100% cleared between them. Gretchen was essentially unbothered by the hook-up. It was refreshing that the show avoided going the "Gretchen obsesses over Jimmy's infidelity" or "Gretchen gets back at the other woman" route, bypassing all that noise completely.
There was a minute there when, after Lindsay suggested Gretchen scope out "the slizz she was up against," Gretchen showed up at Nina's bar in a big hat and sunglasses (the girl equivalent of Jimmy's famous mustache disguise, I guess), it appeared that she was still fixated on the hook-up. I inwardly groaned at the idea of the show taking this direction. It seemed so un-Gretchen.
Naturally, this show being what it is, Gretchen's mini-subplot for the finale took a totally different course. Instead of attacking Nina or  quizzing her about the hook-up, the two just chatted like fast friends. They traded funny stories about Jimmy's childishness.
It appeared that the two were on a path towards a strange, unlikely friendship, when YTW flipped the script yet again: Gretchen, in perfect wacko absurd comedic fashion, attempted to make out with Nina. She was intrigued by how effortlessly likable, alluring and cool Nina was. Which is fair.
Nina, totally not into it and alarmed at what a pair of weirdos she'd gotten caught up with, kicked Gretchen out. Is that the last we'll see of Nina, skier-bar owner, probably-fake dream girl? Who knows. I wouldn't hate to see her again. Not with Jimmy, though, obviously.
Jimmy and Gretchen's finale-opening debriefing also brought to light something we'd all been wondering about: why wasn't Gretchen medicated if this had happened before? Why hadn't she seen a doctor?
Jimmy: You're not on antidepressants?
Gretchen: Shit, no. I don't want to lose my edge.
While on the surface, this may seem a glib and unsatisfactory answer, like most things about this show, it has a deeper resonance. On some level, Gretchen feared that her depression was an indelible part of her personality and that drugs to even her out would fundamentally change her. That's a fair and understandable worry.
Jimmy didn't quite agree with that. The discovery that Gretchen had purposely not taken medication, nearly wrecking herself and their relationship, set him off. He went on a bender at the gender reveal party and wound up almost wrecking Dorothy and Edgar's relationship.
Poor Edgar spent much of the first season and a half of this show being the doormat to Gretchen, Jimmy, and even Lindsay. He still kind of is. When he finally found Dorothy, and she wound up being a real grown-ass adult woman, it was marvelous. They're a great couple.
So imagine my fury at Jimmy drunkenly insinuating that Dorothy had manipulated Edgar into moving in with her, during his "stuck with a lemon" rant after Edgar finally got up the nerve to tell Jimmy he was moving out. And Edgar being Edgar, looking up to Jimmy for inexplicable reasons, fell for it.
The "break-up" scene was completely heartbreaking. Collette Wolfe gave an amazing performance. My heart was ripped in two and I was cursing Edgar. And I love Edgar
Luckily, drunk-ranty Jimmy was followed up by happy speech-giving Jimmy, who was then followed by sad, weepy Jimmy. Emotional Jimmy busted out this gem:
Edgar! My confidant. The Grumio to my Petruchio.

Jimmy
And then he chastised Edgar for breaking up with Dorothy. Because Dorothy is great! Finally, Jimmy admitted it. Also luckily, Dorothy is (as I said) a grown-ass adult woman and didn't see their fight as a breakup at all. They sweetly reunited and agreed to stay together while not moving in together – yet. Although, to be honest, it would have been better for Edgar's character growth to have left Jimmy behind for a bit. I'm a smidgen disappointed about that.
Elsewhere, news of Lindsay's surprise pregnancy spread like wildfire. She told Gretchen and planned to get an abortion. She told Becca (WHY LINDSAY!?) who immediately spilled the beans to Paul.
For all of Lindsay's insistence that she didn't want Paul to know, I have to wonder... didn't she realize her sister, being the awful shrew that she is, would immediately do the opposite of whatever Lindsay told her? Hmmm...
Remember when I said my heart broke during the Dorothy-Edgar near-breakup? Well, my heart shattered into a million pieces when Amy walked into that nursery to see Paul all freaked out and staring at the baby stuff like a madman, and said that he was scaring her.
Amy and Paul were a perfectly matched couple and clearly very happy together. Dramatically, it makes a lot of sense and sets the ground for lots of delicious season three plot points for Paul and Lindsay to have spontaneously reunited to raise their family together – but I'm still sad for Amy.
And I'm really sad for Paul. Once he realizes that he and Lindsay are not remotely compatible, he will regret leaving Amy. The look on Lindsay's face as she saw the side-car (calling to mind her season one observation that sidecars were for "poor people and dogs") said it all – she already regrets this decision.
But that's a topic for the review of whatever episode that fallout happens in next season, I suppose.
Finally, the major turning point occurred in the closing moments. After weeks and weeks of looking after Gretchen and trying (and mostly failing) to help her out of her depression, Jimmy successfully turned the tables, getting so hammered that Gretchen needed to take care of him and feed his mostly-unconscious self fries in bed.
When he woke up, Gretchen told him she'd decided to see a doctor and go on meds (more character growth!!) and that he'd said something "very dark" in his sleep – 
Gretchen: You know, after I cleaned the fries off your face and put you to bed, you said something to me that was pretty dark.
Jimmy: Mm. Don't tell me.
Gretchen: OK, I won't. [pause] I love you, too.
Jimmy's alarmed look fading into a goofy smile. Gretchen's matching grin. The passing of the cigarette. It was marvelous. 10 out of 10.
An understated, off-the-cuff admission of love after a season of serious emotional gymnastics. The perfect closer, and just the way this moment was meant to play out.
Stray Observations:
Becca's full legal name must be Becca "I can have one" Barbara. She must be like 90% baby 10% white wine at this point. In other news, Becca's portrayer, Janet Varney, plays bitchy manipulator like no other. She is flawless.
Lindsay doesn't know what lemons are, apparently. Oh, Linds.
It was such a minor throwaway scene, but god, I loved the bathroom confrontation between Vernon and a pooping Paul. Poor Paul had surprise-pregnancy-induced bowel movements and Vernon inappropriately burst in to beg for money. It was absolutely hilarious.
Chris Geere should teach a master class in acting drunk. That was unreal. So, so good.
Becca is easily the worst person on the show, so I was a little flabbergasted by how lovely Vernon's crazy speech wound up being, where he admitted his transgressions and publicly apologized to his wife for them, followed up by him bringing her the gender reveal cake. It was a surprisingly sweet moment.
Another season one finale parallel: Lindsay pretended to be pregnant last season to disrupt Becca's party and call attention to herself. Now she's really pregnant and tried to keep it quiet. Lindsay has grown (incrementally), you guys!
I slightly preferred last season's musical moment to this one. But admittedly I may have been biased because I hate the idea of Lindsay and Paul together, and this duet facilitated that.
If you don't mind me, I'll be off counting down the approximate days until the season three premiere. Can't stand the wait? Remember that you can watch You're the Worst online here at TV Fanatic and relive all the best moments with your favorite randos and Worsties!
Caralynn Lippo is a staff writer for TV Fanatic. Follow her on Twitter.