Gibbs and company investigated after a Navy lieutenant was found dead in a trash compactor aboard a ship on NCIS Season 14 Episode 4, which struck me as one of those "love it or hate it" hours.
Do you like not being able to finger the killer right off the bat? Well, you're pretty much golden with "Love Boat," because the killer and his motive weren't at all clear until the grand reveal at the end of the episode.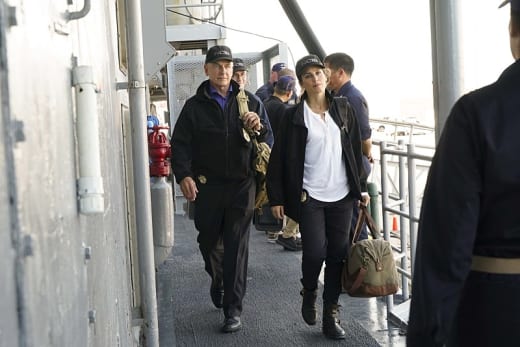 I have no problem with this strategy overall, though sometimes it has a tendency to come off as "out of left field." It may possibly have something to do with the fact that I've seen so many episodes of cop shows over the years that it's become all too easy to spot the perpetrator before the first commercial break.
To be honest, I'm still on the fence as to whether the motive reveal worked here or not. That said, I did very much like how Gibbs defused the situation with Merrick Gomer and his young son in the car. Just for fun, let's look at some of the charges Gomer faces after this installment:
Murder
Lying to federal agents during the course of an investigation
Violation of a restraining order
Custodial interference
Kidnapping
Oof. Honestly, I'd be very much surprised if Gomer ever got to see his son again outside of prison.
It was awfully coincidental that Gomer happened to run into a good friend of his e-wife (i.e., the victim) on the ship he just happened to be hitching. I'm willing to let that slide because sometimes that sort of thing does happen. Bad things happen to bad people, too.
One of the funnier parts of the episode was the interrogation with Gibbs, Quinn, and Wayne, AKA the World's Dumbest Paparazzo. Gibbs looked like he just wanted to reach out and strangle the idiot once he figured out that the guy was a moron, not a murderer.
Gibbs: That's a long swim for an innocent man!
Wayne: I'm not innocent! ...of the imposter stuff...
On a side note, Wayne the Paparazzo faces some serious charges of his own, too, including photographing in a restricted area on board a military vessel. That's a BIG no-no, one that could get him locked up and the key thrown away.
Pretty well overshadowing the Case of the Week was McGee's proposal plan. He had the Most Romantic Proposal Ever (TM) planned out down to the nanosecond; it was beautiful, it was perfect, it was Never Gonna Happen.
Eleanor Bishop, will you be my Frodo?

McGee
Setting aside the meta fact that the plan was doomed simply because this is a TV show, and that's what happens on TV shows, the whole scenario was just way too complicated. I was actually surprised that no one bothered to point this out to McGee.
So I wasn't too surprised when he just threw away the Most Romantic Proposal Ever (TM) and just went to one knee in the elevator.
Not every NCIS fan is a fan of the McGee/Delilah relationship. For my own part, I liked it, in part since it hasn't taken over the entire show as some romances have a bad tendency to do on dramas.
The fact that it took up such a large part of this episode was one of those things that probably bothered you if you don't like the two of them together.
One thing I want to note was the fact that Delilah demonstrated friendships outside of her relationship with McGee; a small bit, yes, but an indication that the character does not exist on the show solely for her romantic plotline.
Torres didn't get much to do in this episode, a detail that he actually lampshaded. He complained about being "outside his comfort zone." In the comments to my review of NCIS Season 14 Episode 3, some of you noted that Torres wasn't trained so much as an investigator, and that fact was given a little lip service here.
It wasn't a lot, but still, it was something.
Quinn, while she still remains somewhat a mystery, was given a small bit of backstory, which was definitely appreciated. I have read that we should get more background on her in the next episode or so, so I'm hanging in there and hoping that they do fill in a lot more of the blanks in her character.
A few final thoughts before I turn the discussion over to you, fellow fans:
Tiger cruises are indeed a real thing. "Tigers" are defined as friends or relatives of a crew member, but specifically not boyfriend, girlfriend, intended, or spouse.
Where did Gomer get the gun he had with him at the end of the episode? He surely didn't have it on the ship!
Why was McGee breaking into Kate/Ziva's desk in the past? Bonus points to anyone who can tell me when this happened! (I do seem to remember Tony doing it at some point, but not McGee.)
Illegal street racing... with drones! Somehow, I'm not surprised that Torres would be entertained by that.
I noticed several references to The Lord of the Rings, two obvious and one not so much.
Insistent terminology of the day: "murder ship," not "murder boat."
If you missed it, or simply wish to relive the glory of McGee's absurd proposal plans, you can watch NCIS online. Also, be sure to tune in on Tuesday, October 18, 2016 for NCIS Season 14 Episode 4, "Philly."
What did you think of "Love Boat"? Were you able to spot the killer early on? What did you think of McGee's plans? Will his and Delilah's wedding go off without a hitch? (Seriously, you can stop laughing, now!) Let us know in the comments section below!