Supergirl Season 2 Episode 14 Review: Homecoming

Stacy Glanzman at . Updated at .
Jeremiah was a bullfrog...with an enhanced robotic arm that no one noticed?
Emotions were high on Supergirl Season 2 Episode 14, clouding just about everyone's judgment, except Mon-El's. 
When Mon-El becomes the voice of reason, it's time to start looking for signs of the apocalypse.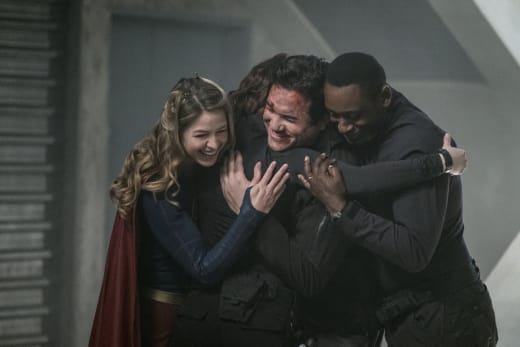 Seriously, Jeremiah's been missing for 15 years, and everyone is ready to welcome him back with open arms? I just don't buy it. 
While I can appreciate overwhelming emotions, at least initially, eventually logic and reason have to return, right? 
With Kara, it did, and that was the most realistic reaction. While she wanted to give Jeremiah the benefit of the doubt, she was also open-minded enough to see reason when Mon-El, and especially Winn, approached her with hard evidence. 
Alex and J'onn's naivety made no sense. 
Sure, we could chalk up Alex's reaction to temporary insanity. She hadn't seen her father in years, and no one was going to be able to convince her he wasn't the same guy who tucked her in at night as a child. 
But, does that mean they should just be letting him wander the DEO alone?
I'm at the DEO for two months before I can pee alone, and he just walks right back in?

Mon-El
After everything they have seen, neither of them considered that he could be brainwashed, or that Cadmus experimented on him? That's what they've been doing for all of Supergirl Season 2!
It didn't occur to J'onn until it was too late to try to read his mind? No one had him pass through a metal detector? Kara didn't give him a once over with her x-ray vision? Nothing?
These characters are too smart and have seen too much to be this trusting. Too much is at stake. 
What if Alex and Kara had walked into a trap instead of an empty warehouse? 
No matter how much they all wanted to believe he was the real deal, they simply do not have the luxury to take chances like this. 
Besides, if Jeremiah had nothing to hide, he would have completely understood having to submit to whatever security procedures they implemented, starting with an escort at all times while inside the DEO.
That's just common sense.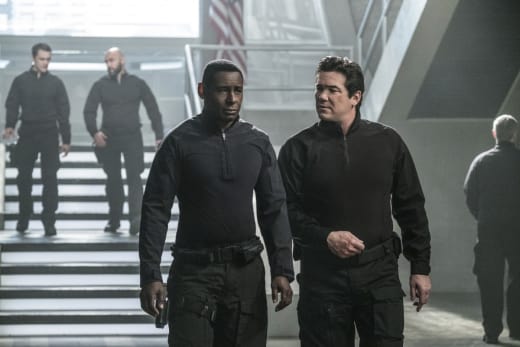 Still, despite the robotic arm and the deception, Jeremiah's not all bad. 
It's obvious the guy he once was is still in there somewhere, as evidenced by the fact that he didn't want to hurt anyone. There's still hope for rehabilitation. 
Who knows? Maybe he's a double agent, working to bring down Cadmus from the inside. Though, if that's the case, why didn't he tell anyone? 
There's definitely more to the story, and it's not all black and white. We'll have to wait and see what his real motivations are, and where his loyalties lie. 
What is Cadmus going to do with the alien registry? Could this mean Lynda Carter will be back soon? We've been waiting forever for her to return. Perhaps the list will out her as an alien?
Jeremiah knows Mon-El's secret. How? Why did Mon-El question everything else except that? 
He should probably tell Kara now before she finds out another way. If Jeremiah knows, that means Lillian knows, and she'll seize any opportunity to hurt them. 
Mon-El: It's Jeremiah's return. What if Cadmus allowed us to rescue Jeremiah so he could sabotage us? Just when this doomsday bomb is about to be detonated. I mean, think about it.
Winn: Okay, you know what? I knew I shouldn't have given you my Netflix password. Because watching that much 24 at once is not healthy.
Is anyone else completely on board with a Mon-El/Winn bromance now? I think it could prove to be quite entertaining. 
We've seen how well Winn plays pool. Darts were clearly a bad idea. 
Still, he and Lyra are pretty adorable. Hopefully, she's not hiding something sinister.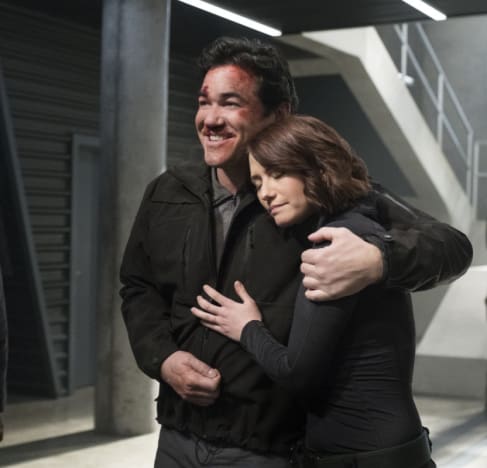 As usual, Chyler Leigh was incredible. Her performance was heartbreaking. 
I'm a little concerned that Alex is going to find herself with a gun pointed at Jeremiah again down the line and have no choice but to pull the trigger. 
As much as I'd love to see Jeremiah's return result in a happy ending, it feels more likely it will end tragically. Maybe not at Alex's hand but dying heroically to save her or Kara is a real possibility. 
Of course, there were some happy moments. 
Mon-El waking up alone, Kara flying through the window with flowers and coffee, Mon-El proceeding to put said flowers in a lamp shade; it was all just so domestic. 
Their relationship will never be normal, but that doesn't mean they can't have their own version of romantic bliss. They're in the honeymoon phase after all. 
Mon-El is a bit of a slow learner, but he is finally starting to get it. He's learning how to provide support and listen without needing to protect her all the time. 
He's incredibly lucky he fell for such a patient girl. 
As tough as the day was, I can hardly blame Alex for needing a drink, but it's also concerning me a little bit. Is anyone else worried she's becoming an alcoholic? I hope not, but it wouldn't shock me if the story eventually progresses to that point. 
Alex and Kara both had someone to console them, but what about poor J'onn? Maybe Eliza could be a friend to him. She was the only one of the Danvers clan to keep her head on through all of this. 
What did you guys think of Jeremiah's return? What do you suspect Cadmus wants with the alien registry? 
If you need to catch up, you can always watch Supergirl online. 
Stacy Glanzman was a staff writer for TV Fanatic. She retired in March, 2019.