Prison Break Season 5 Episode 1 Review: Ogygia
Paul Dailly at .
When a TV series you like is canceled, it's a horrible, horrible thing. Even though Prison Break was well past its' prime by the time it was banished to Friday nights and subsequently canceled; it was still one of my favorite shows. 
It had everything I look for in a TV show: Action, tension, and solid acting. I even rewatched the first four seasons earlier this year to prepare me for the big return.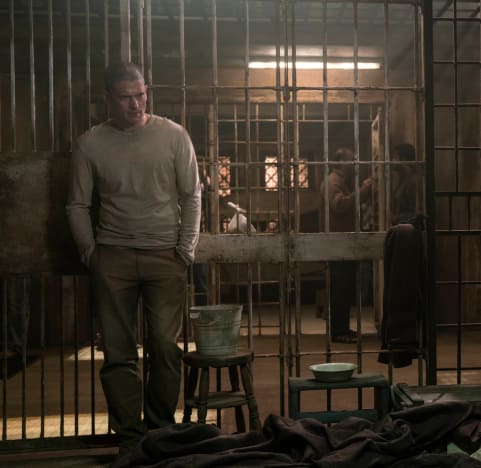 Unfortunately, Prison Break Season 5 Episode 1 was not the return I was hoping for.
After all these years off the air, I was excited to return to the convoluted world that find Michael Scofield and his family/friends in the most impossible situations. 
If you watch Prison Break online, you probably already knew the story was over and that Michael was dead. It was a dire plot that divided fans when the series signed off back in 2009.
There's obviously reasons why Michael is in Yemen, but it just boggles the mind as to why he could have wound up there after what happened to him on the original series.
I mean, how much is this guy going to go through before he gets to have some time with his family?
Sara was in a happy relationship and moving on with her life. Mike, however, seemed to want to know a lot about his father.
Kids have a knack for asking questions, and if Mike has half the brains his father has, then he's going to be smart as hell. 
It was evident Sara was still very much in love with Michael. She even compared her former love to a storm.
However, I found Mike's reply to be too corny to even care for that scene. This is not a direct-to-DVD movie; this is Prison Break.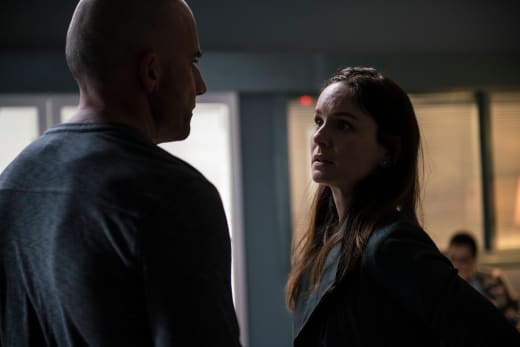 Finding out about the potential that Michael was alive, Sarah probably felt like her world was falling apart. After witnessing how things went down, she knew fine well the chances were slim that she would ever see him again. 
Sarah Wayne Callies turned in a strong performance, but it's just a shame she never got much to work with. Aside from characters meeting up, it was mostly build-up for the following eight episodes. 
Some set-up is fine, but the execution was not all that. I had to laugh when Lincoln's car was hacked. It's good to make viewers aware the villains are always hiding in plain sight on the show, but come on, that scene was like something you would expect on DC's Legends of Tomorrow.
Throwing logic out of the window for the sake of a high-octane scene sometimes works, but the scene was a resounding failure. It felt forced and like it was just thrown in there. 
I did like the villains making their way to Sara's home. That bit was tense as hell, and I had no idea what was going to happen. Would the powers that be kill Sara off once again?
That would cause a riot. Bringing the series back as an Event Series seemed like a good idea, but the first episode struggled to give all of the characters much to do. 
Initially, Lincoln seemed to be reverting back to his old ways, but when he realized Michael was still alive, it was like the catalyst for him going on a mission to repair his family.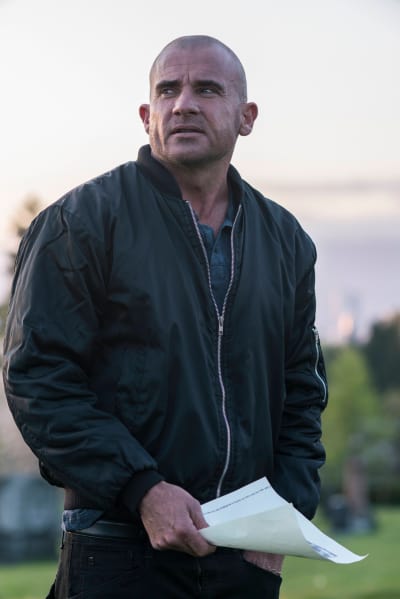 The closing scene with Michael saying that was not his name and shrugging off Lincoln was surprising. There's something going on with the politics of the prison that means if Michael reveals his true identity, he's dead. 
The Yemen we got to see on the show was war-stricken. Lincoln and C-Note should have probably run back to the U.S. after their ordeal with the driver. It's going to be really surprising if everyone makes it out of this series alive. 
"Ogygia" was Prison Break at its worst. It did not have the excitement of a series that had stories left to tell. For the most part, it was slow and corny. 
That said, I have screened the next three episodes, and the show improves, so diehard fans should stick with it to see if it turns into a love letter for the fans. The characters are all flawed in their own way, too. Likable characters may be what saves this season. 
Over to you, Prison Break Fanatics! What did you think of the long-awaited return of this iconic Fox drama? Are you in for the season? 
Hit the comments. 
Prison Break continues next Tuesday on Fox!
Paul Dailly is the Associate Editor for TV Fanatic. Follow him on Twitter.