Wynonna Earp Season 3 Episode 5 Review: Jolene
Olivia Popp at . Updated at .
On Wynonna Earp Season 3 Episode 5, Purgatory is sent into a frenzy by Jolene, breaking friendships and wreaking havoc between the reunited Earps.
It's a messy episode that tries to make up for the confusion in its fun factor, hinging entirely upon the dramatic irony served through Jolene, which none of the characters realize is the demon they are searching for.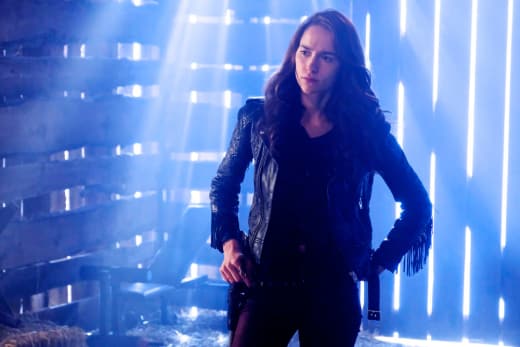 The Jolene/Waverly and Jolene/Nicole scenes are particularly harrowing, allowing Dominique Provost-Chalkley, Katherine Barrell, and Zoie Palmer to shine.
Jolene breaking the close bond between Waverly and Nicole is also heartbreaking, but it's made up with a warming WayHaught scene at the end of the episode.
Waverly really is getting the short end of the stick this season, but it allows the show to dive into grittier and realistic territory without hinging upon horror. Rather, the darker aspects come from horrors that are based in reality.
You tell Waverly and those Earp bitches I say hey! Wait, did I just say...

Nicole
We also get a hearty dose of drunken Wynonna/Michelle humor -- now we know where Wynonna gets her drinking habits. It'd be so fun to see more of this as the season goes on, but it seems like we're in for darker material.
It'll be interesting to see where Michelle ties into the whole narrative, considering that she's been gone for so long but clearly holds very crucial information. Clearly, it'll be quite a task to balance her comedic value with the horrors that she will have to deal with along with the team.
Wynonna: Waverly's shtupping a cop!
Waverly: Her name's Nicole!
On the comedic side, the bar scene is particularly memorable, firming up Jolene's motive to cause havoc, but her motive, abilities, and the reach of her strength is never fully established, which ultimately lets down the episode more than it should have.
Those that eat her food and fall under her spell seem to listen to her, becoming paranoid and bringing out their literal demons, but the final effect is never established. More clarity, even on an episodic level for Jolene, could have helped to firm up the demon's place and how viewers reacted to each move.
Zoie Palmer does a fantastic job balancing the nice-creepy version of Jolene with the two-faced nature of the demon side as she threatens and taunts Waverly -- and that's noting that she's convincing Waverly to commit suicide, no less.
In addition, although Jolene pushes Waverly to the very brink of her inner demons, the build-up was shockingly short, resulting in a scene that was harrowing nonetheless but felt unnatural and a bit uneasy within the context of the episode considering the content.
On top of everything, we need to be an adult daycare center?

Wynonna
Although the audience knows that Jolene can't hurt Waverly, her motive is revealed to ultimately be to kill Waverly. It's still somewhat unclear why, even after the episode, and especially after the ending monologue about being born on the same day as Waverly.
However, it's still tough to really allow the episode to excel without defining the character's bounds, which we don't get in the pastries and desserts tossed every which way.
It's undoubtedly connected to the larger season gameplan as a whole, considering that Waverly's parentage is still relatively murky, but at the moment, there are more questions than answers at all.
Jolene also spends much of the episode getting the entirety of Purgatory to fall under her spell rather than concentrate on Waverly and her close friends, which seems almost counterintuitive.
Like the last episode, we could have gotten a Waverly-centric episode, but instead, it was spread too thin. Jolene as a Waverly-centric episode could have been utterly fascinating -- a dark look similar to the last scene when they're alone in the barn together.
A demon has been stalking your sister ever since she was a baby!

Michelle
As astute viewers may notice, Waverly has been wearing an awful lot of white this season, and this episode isn't an exception. She continues the streak this episode, culminating in Bobo's insistence that her real father is an actual angel.
The episode doesn't pack as much of a punch as it could have, attempting to straddle the line between darker themes and trying to remain lighthearted. However, the series still delivers a hearty dose of eerie with Jolene's powers while preserving the humor. 
Doc doesn't do much this episode, and Wynonna warms up to Michelle very quickly, but this only distracts from the demon issue at hand. Jeremy isn't in this episode at all, which was a good choice considering all the characters flying around, but there still was too much going on, even without him.
Despite this episode's messiness, it still successfully continues to plant seeds for Season 3 and acts as a relatively strong stand-alone episode. As most of the demons this season expectedly tie into Bulshar somehow, considering that "Bulshar has risen," Jolene's parting words are also particularly ominous.
In the episode, Jolene states that what she does is to show fielty, stating that "the girl was for you." However, this also seems like it's directed to Michelle. Whether Jolene is speaking to someone we know or Bulshar at large, we'll just have to find out.
Make sure to watch Wynonna Earp online and catch up if you haven't already!
Who do you think is Waverly's father, Julian? How will Bulshar catch up to the team? Let us know in the comments below!
Olivia Popp was a staff writer for TV Fanatic. She left the site in September 2018.