"Friends are the family you choose."
Or, you know, the people you spend at least half of your time with at a job with extremely high stakes pressure. Or so it would seem based on Chicago Med Season 1 Episode 13. Ok, I'll admit, the camaraderie and trust between the doctors and nurses was really touching.
And maybe it is like a real family, because they didn't all choose each other, and they don't always all like each other. But they come together when the going is tough and generally have each other's backs because they're in it together, whether that means baptisms or retirements or people chopping off their own arms.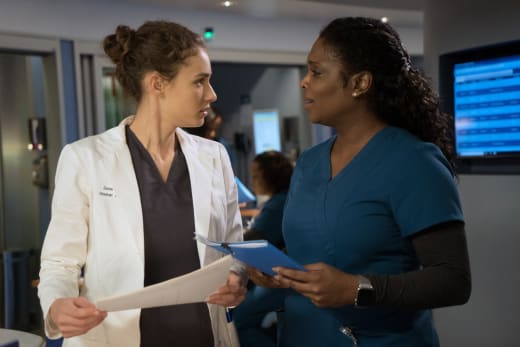 I'm always a little thrown when the cases that are made to be such a big deal of in the promos end up being relatively minor. I get that the network needs to promote something, but the over dramatization becomes a little laughable sometimes. 
I was actually a little surprised that the B.I.I.D. story felt so...downplayed. It's an intriguing (and rare) disorder. I would have like more explanation of the disorder and a more emotional description of what it's like to live with it. I appreciated the payoff that it caused some introspection for Dr. Charles, but it didn't really feel earned. 
And the man who wanted to harvest his wife's eggs could also have provided enough material to be the primary focus, especially with Will comparing this case to Jennifer Baker's and the take away of some life lessons. Instead, it was crammed in with so many other cases you may have gotten dizzy.
Will: It's not right. That woman's body is telling us no, loud and clear.
Sharon: Yes, I agree.
Will: So why won't he listen?
Sharon: Well, Dr. Halstead, sometimes we want to believe something so badly, we ignore the reality in front of us. You're familiar with that aren't you?
I thought Sarah's storyline was the best executed. Despite the case she treated not going into too much depth, she demonstrated her skill as an ED physician, and it allowed for the exploration of her relationship with the ED staff.
Sarah doesn't always get the most screen time, but I feel like she's the heart of the show. Rachel DiPillo does a great job with the character, and the writers have allowed her stories to develop a little more naturally than some of the other arcs. 
Her insecurity about her results and her choices were really relatable. Sometimes having all the choices is just as hard as having none. I really loved how DiPillo played the scene with the match envelope. After all the buildup, there was just no visible reaction. 
Choi: It has its downsides. Then again, how many jobs are there where you literally get to save lives? [beat] I'm sure you'll find pathology just as rewarding.
Sarah: You are?
Choi: Nah. I don't get it at all.
Will finally showed some maturity and understanding, and it made him a smidge less terrible.
He still has some rehabilitation to do, but making the decision to give Nat some space earned him a lot of credit in my book. I wasn't sure about his decision to go to Jennifer's funeral (or with Baker's forgiveness), but I'll give it the benefit of the doubt for now.
It was nice to see Nat leaning on her ED family when it came to an important question about raising Owen. I could have handled her getting advice from more than just the two doctors, but the fact that she solicited more than just Will's position was encouraging.
These things, along with the baptism and Choi's little speech, are some good steps in building up that family/team dynamic that Med has been missing so far. It came a little more naturally to Chicago Fire (where the crew literally lives together a few days a week) and Chicago PD (which also has life and death situations). 
You're family. We rise and fall together.

Choi [to Sarah]
Chicago Med Season 1 Episode 14 will be back after a short break on April 19th with "Hearts." The wait will be worth it though – the headline case involving suspected child abuse is sure to make tempers flare in the ED. Maybe Connor and Will will find that a common enemy brings them closer.
Also in "Hearts," Charles and Choi will team up again for an unusual patient, while Sarah starts to realize that pathology may not be the right path for her. Things will be looking up for April at least. She may be able to disable her Tinder and Bumble accounts before too long. 
If you missed "Us" or any of the earlier episodes, you can always watch Chicago Med online. Make sure you're up to date and join us in the comments section – we'd love to get your take on everything!
Elizabeth Harlow was a staff writer for TV Fanatic. She left the organization in October 2018.