At least one person ended up having a good day on Chicago Med Season 2 Episode 10.
Meghan may have gotten her heart, but everybody else's day pretty much sucked. Maggie got temporarily replace, Charles and Connor had a patient let them down, Natalie got publicly chewed out, Jeff got dumped, and Sarah got no sleep.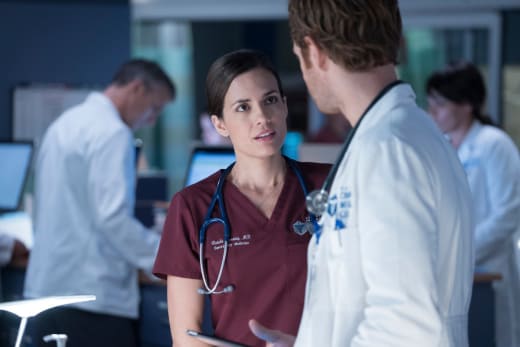 Natalie's starting to get good at standing up for herself, even if she isn't getting any better at picking love interests. Maybe she should start looking outside of the hospital?
I don't want to give credence to anything that smarmy close-talker Dr. Stohl said, but dating a med student, even one you've had a previous personal relationship with, was not a smart move. Awkward enough to be dating your student, but now you have to go and teach your ex on a daily basis? Awkward.
The real question that's on everyone's minds after that not-so-gentle let down is, of course, what does this mean for Manstead? Will may be planning dinners at French restaurants for Nina, but how long will that last now that Nat's single again?
I just hope the writers don't decide to mirror Chicago Fire's Dawsey relationship too closely. Not only would that be boring, but those two were exhausting and I actually liked them together. IMHO, Nat should find herself a nice guy who works in an office down in the loop -- an accountant or a lawyer maybe.
Natalie: How dare you?
Jeff: I know, I shouldn't have --
Natalie: I am *not* a damsel in distress and I do *not* need you to defend me.
The M&M may have been a bit of a let down, but the transplant committee was anything but. I would have like to see Connor get a little bit more wise counsel on the whole situation from Dr. Charles, but to be fair, their relationship is a wee bit complicated right now.
It was a little too easy that the transplant just ended up working out cause the next nearest match was in California, but whatever, that all happened in the last five minutes. It's a Dick Wolf show, we all know what we're getting into with the quick wrap ups, right?
I'm still not sure how I feel about the inflated drama between Maggie and Officer Windham either. The tribute to a fallen officer at the end was touching, and the care and respect given to the donor and her family was beautiful. But Platt's interference and Sharon's capitulation made Mt. Everest out of an anthill.
Will: You know today wasn't a defeat, right?
Natalie: I guess. The whole experience has been a lesson in humility.
Will: Humility. Always been a tough one for me.
Also blowing things way out of proportion are Tate and April. 
I want to like this storyline because it really could be taking a fresh look at a controversial topic, and exploring how the decision making process in that situation can make or break a couple.
But it's just failing so completely.
Tate's not communicating as well as he could be, and was jumping ahead a few steps when he brought up the topic of termination. And April is being a crappy nurse to not even have the discussion and go over the medical issues. Not to mention a crappy fiance for throwing it back in his face like that.
April: If it was up to you, there wouldn't even be a baby.
Tate: April, I told you, I'm sorry. The only reason I wanted to consider terminating was I thought the baby would have no quality of life. I didn't want to put you -- us through that.
WIth the more serious issues happening with the two sides of the heart transplant operation, Sarah didn't get much screen time, but Rachel DiPillo worked the hell out of what she got.
I'm excited to see where this neuro rotation takes her, but even more so to see her under the more rigorous Dr. Abrams. His attitudes seem pretty believable -- the old school not adjusting to the "lax" new way of doing things. 
I just loved how sleep deprivation + over caffeination made her snarky side come out. And the looks she shared with Choi during the surgery observation were just pure gold. I love those two together. 
He's a really good surgeon. I just wish he wasn't such a dick.

Sarah [about Dr. Abrams]
We'll get to catch up more with Sarah on Chicago Med Season 2 Episode 11 ("Graveyard Shift") -- it looks like Dr. Abrams won't be letting up anytime soon. She may need something a little stronger than those coffee beans to get her through this one though. She'll be called up to make death notification, which just sounds like a terrible way to spend an evening.
While Sarah gets shoved into the deep end, Connor is asked to treat an "unusual patient." Call me crazy, but with the Chinese ambassador showing up in the promo, I'm thinking he might have to do heart surgery on a panda. I know it's out there, but I'm kind of dying for this to happen.
In less surprising news, April and Tate continue to have problems, and Dr. Charles "passes along some vital news to Dr. Latham." Sorry, but diagnosing Latham with some kind of spectrum disorder is hardly earth shattering.
If you're some how new to the internet, you'll be glad to know that you can watch Chicago Med online! Seriously, so much easier to watch on you own schedule, and viewable on train, plane, or automobile -- so long as you're the passenger!
We'd love to hear your thoughts on "Heart Matters," so join the conversation in the comments section below.
Elizabeth Harlow was a staff writer for TV Fanatic. She left the organization in October 2018.